Monte Vista Elementary  April 23, 2016 Ahwatukee Shred-A-Thon – Results
Thank-you to everyone who participated in our semi-annual Shred-A-Thon at Monte Vista Elementary school and made the event a great success!
What a great Saturday!  We collected 33 Boxes of non-perishable food items for the Kyrene Resource Center.  The value of this food is over $2191!   Additionally, $223 in cash donations were accepted from folks who didn't bring food donations but still wanted to give to the Kyrene Resource Center food pantry.  The money will help the Kyrene Resource Center purchase specific food items as needed to round out the family food baskets.
Thank-you to ASDD Document destruction for providing the on-site shred truck.  People bringing paper to be shred were able to see their documents raised into the truck and shred, assuring them their identity would remain safe!  Not only were their documents shred but they became mixed with over 10,000 pounds of other shredded paper!  The amount of paper shredded was a record 10,321 Pounds with a value of $425.  This money will go to the Tempe Habilitation Center.  By shredding documents, paper was recycled and will not contribute to a landfill!  Best of all, those bringing documents to shred are keeping their identity safe!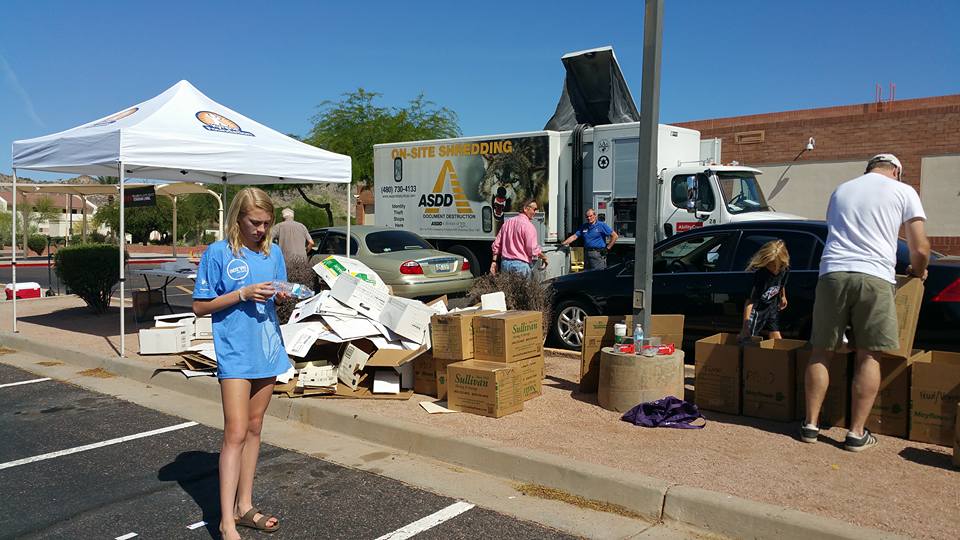 ASDD Document Destruction is a social enterprise of TCH – The Centers for Habilitation.  TCH is a local Arizona 501(c)(3) non-profit, that has operated since 1967.  TCH is dedicated to providing support and opportunities to people with Physical and developmental disabilities.
Many people brought their documents in boxes,  which were recycled in the on-site Paper Collection bin at Monte Vista Elementary school.  The school will directly benefit from the money earned from the recycled cardboard.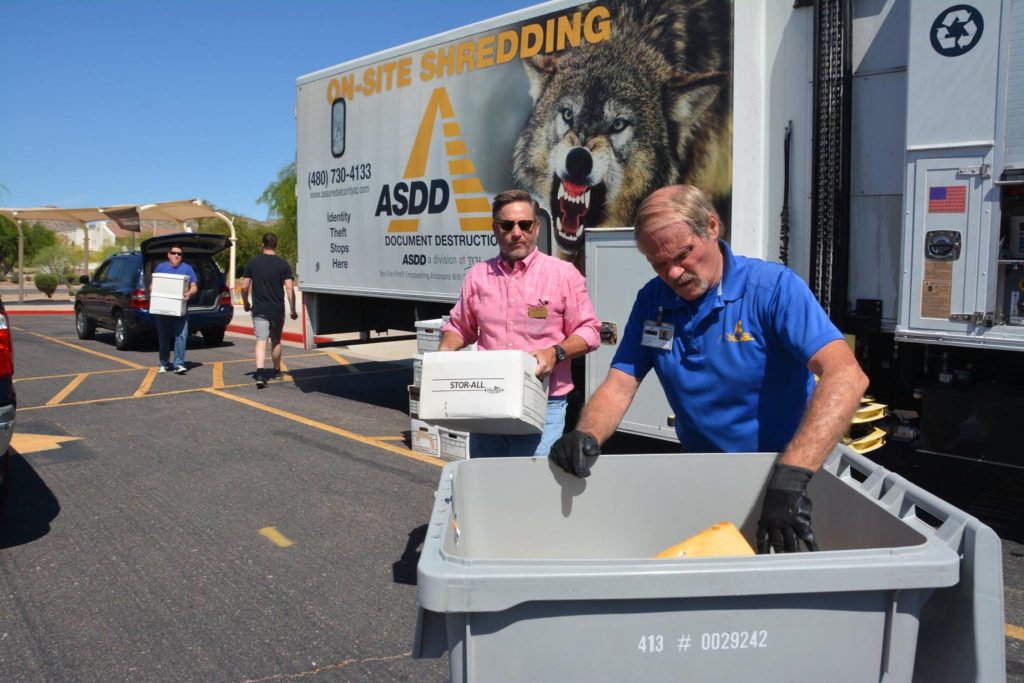 This semi-annual Shred-A-Thon is sponsored by Shirley Coomer and Gregory Stainton of Keller Williams Realty Sonoran Living to give back to the community.  Both Shirley & Greg live in Mountain Park Ranch in Ahwatukee and the children of both families have attended Kyrene schools.
Shirley & Gregory are members of the Board of Directors for the Kyrene Foundation and this is just one of many events and activities they participate in to raise funds for the Kyrene Foundation and the Kyrene Resource Center.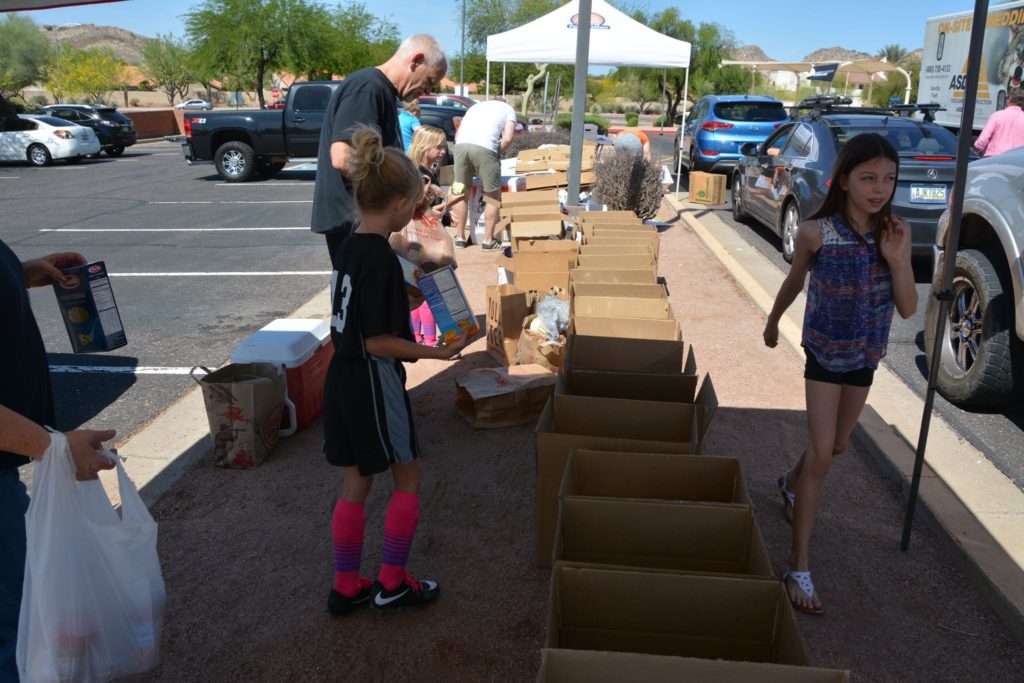 For the 2014 – 2015 school year, The Resource Center distributed 2,180 Food Boxes to families in need, whose students attend Kyrene schools. For most people, it is hard to believe there is a ongoing need for food (and hygiene items) for families with children attending the Kyrene school district.  The Kyrene School district includes all of Ahwatukee, and parts of Tempe & Chandler.  The semi-annual Shred-A-Thon event adds much needed food to the food bank at a time when the school year is winding down and donations start to decline.  Community support has grown bigger and bigger each year and the generosity of the community is greatly appreciated.
The next FREE Shred-A-Thon is scheduled for Saturday,  October 15, 2016 at Monte Vista Elementary school.  At this event Shirley Coomer  & Gregory  Stainton will again be collecting food for the Kyrene Resource Center.  For the fall Shred-A-Thon,  the focus is  on food for the Thanksgiving food boxes and Turkeys which are provided for about 250 -300 families in the Kyrene School District who otherwise would not be able to afford a traditional Thanksgiving dinner.
Shirley Coomer & Gregory Stainton of Keller Williams Realty Sonoran Living in Ahwatukee  also have developed the One Home One Family At A Time  Community program to give back to the community and the Kyrene Foundation.
This program provides for a $500 donation to the Foundation with each home purchase or sale through Shirley or Gregory.   Please call Shirley Coomer at 602.770.0643 for details on this program which supports your community through the Kyrene Foundation.