Phoenix and East Valley Area Real Estate Market Report May 2017
View All Current & Past Phoenix & East Valley Real Estate Market Reports
Below are all the Homes available in the city of  Phoenix by Dollar amount and type:
| | | | | |
| --- | --- | --- | --- | --- |
| Under $100,000 | Between $100,000-$200,000 | Between $200,000-$300,000 | Between $300,000-$400,000 | Between $400,000-$500,000 |
| Between $500,000-$600,000 | Between $600,000-$700,000 | Between $700,000-$800,000 | Between $800,000-$900,000 | Between $900,000-$1,000,000 |
| Over $1,000,000 | In Adult Communities | Foreclosed Homes | Short Sales | With Pools |
Navigate this Market Report:
Below is a snapshot of Phoenix Real Estate Market Statistics for April 2017;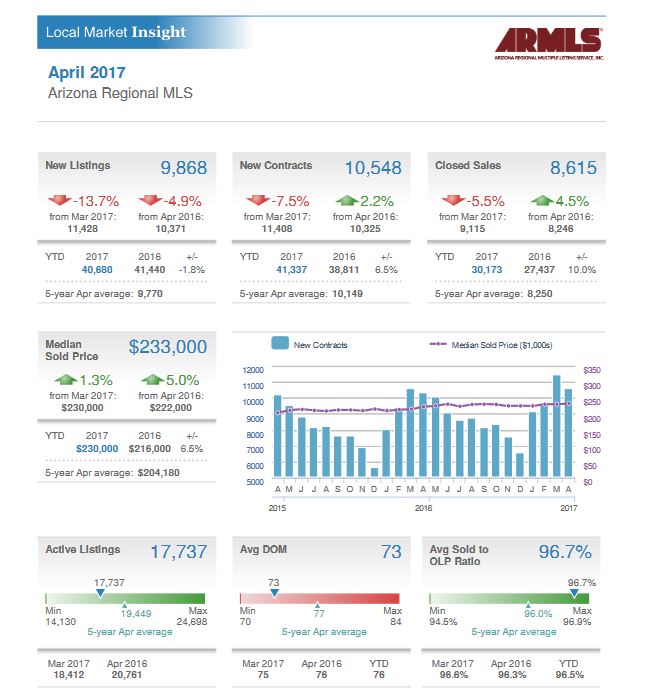 How should this data be interpreted?  For the metro Phoenix area, new listings in April 2017 were down from March 2017 by 13.7%.  New contracts in April were down by 7.5%.  Closed sales were down by 5.5 %.  The median sold home price was $233,000, just  up from March's $230,000.  The average number of days for a home to be on the market in the Phoenix metro area decreased to 73 days, down from 75 days in March.  The list to sold price increased to 96.7%, flat with March.
Phoenix Homes for Sale by Bedrooms & Median price:
How should this Data be interpreted?
For the Phoenix market at the end of April, there was 2.0 months of inventory available, flat with March.  This means that if no more houses came on the market, it would now take 2.0 months for all existing inventory to sell.  A key calculation Real Estate agents track is how fast the Housing Inventory is turning. When we divide the number of properties on the market by the number sold we determine how many months of inventory is available. Typically, when we are under three months of inventory this is considered a Seller's market. This means there is more competition for homes, and homes typically sell closer to list price, and often with multiple offers.  The real estate community generally considers under 3 months of inventory to indicate a seller's market, while more than 4 months of inventory is moving towards a buyer's market.
What does this mean if you are selling your home in Phoenix?
As a seller, it means that current inventory levels are flat with April. but sales are up.   While inventory is down slightly, demand is up.  For April, we saw average days on the market of 75 days, which is down slightly from April.    If priced correctly, sellers can expect to sell in less than the average 75 days on market we saw in April.  Buyers are not going to overpay, but houses priced correctly and in good condition will sell, often with multiple offers. For April, we saw the list to contract price was up from 96.4% to 96.6%.  We also saw the median price remain flat at $230,000. 

What does this mean if you are buying a home in Phoenix?
 For buyers, this means more inventory has come on the market and it is being sold quicker than in April, and those homes sold were sold for more money. Homes priced correctly relative to location and condition are selling closer to the original list price.   If you are serious about an offer, have your agent provide you comparable properties to determine the best price for the house.  Asking for seller concessions and making a low ball offer is not a good strategy in a seller's market. Remember, sellers also know the value of their home in this market.  Their agents are keeping sellers updated on recent sales and homes similar to theirs as they come on the market.
Why a look at the Phoenix statistics is not enough.
When you look at the data for different parts of the Phoenix area (by a city, by zip code etc.) you will see dramatically different results. Each part of the Valley performs based on its own indicators and needs to be examined specifically to determine the strategy for buying a home in Phoenix or selling a home in Phoenix.
Below are Homes that have come on the Market in the last 7 Days around the Median price range. Also below the pictures, you will see a link to additional homes in this price range:
Since we are focusing on the Market Statistics for East Valley locations, below you will see the links specifically for those cities:
View All Current & Past Phoenix & East Valley Real Estate Market Reports
Summary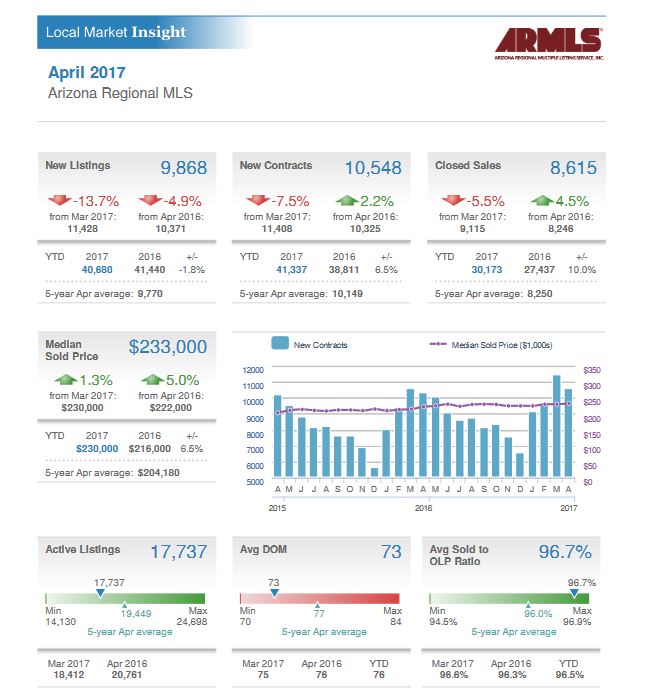 Article Name
Phoenix and East Valley Area Real Estate Market Report May 2017
Description
Phoenix and East Valley Area Real Estate Market Report for April 2017. This report will help buyers and sellers understand current market trends.
Author
Publisher Name
Shirley Coomer Real Estate
Publisher Logo