What Does a Decluttered Home Look Like?
Okay, so Realtors always tell sellers to declutter their home before the home goes on the market.  What does a decluttered home look like?  Do you really need to depersonalize your home? Do you really need to declutter all the rooms?  Let's take a look.
Instant Home Value Estimator
Click below for an estimate in 30 seconds

#1 Kitchen
Start with your kitchen and look in all cupboards and drawers.  You are moving, so go through each cabinet and drawer and remove duplicate items you don't use.  Have boxes ready labeled  KEEP, DONATE, GIVE AWAY.  It is important that buyers see there is plenty of room for storage. And if your cupboards are crammed full, they will likely think they won't have enough storage either.  If you have a pantry, be sure shelves are neat and organized.  Remove everything off the counters other than a coffee pot and a bowl of fruit. You probably use your coffee maker daily, but not the large mixer stand or crock pot. Store away all counter appliances.  You want buyers to take in the generous counter space, and if every inch of the counter is full of items, buyers will feel the kitchen is not big enough.
Look at your kitchen. Do you have a refrigerator full of magnets, pictures and to do lists?  Remove everything from your frig.  In addition, do you have cereal boxes on top of the refrigerator?  Find a place for them out of the site.     Remove everything from the counters other than maybe your butcher block of knives (if they look nice) and coffee pot.  You want the countertops to look roomy.  The more appliances you have on top of the counters the more you send the message that this house doesn't have enough storage.
#2 Dining Room
Be sure your dining room table is cleared off, other than a flower arrangement.  Make sure your dining room looks like a dining room.  Buyers get confused when a dining room looks like an office or playroom.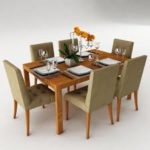 Clear off any sideboards, consider removing extra chairs so the room in inviting and appear spacious.  Be sure all light bulbs work and lights are on when your house is shown to prospective buyers.
#3 
Master Bedroom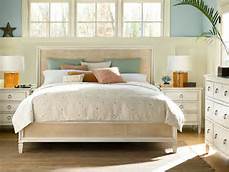 Roomy Master Bedroom – Buyers walk into a Master suite and expect that extra space will be a sitting area, not a home office stacked with boxes, books, magazines, and papers.    There are really two parts to decluttering.  One is having the right furniture and the other is removing the "stuff".  Boxes, books, pictures, piles of the magazines that you are going to get so someday do not belong in a bedroom when you put your house on the market.  Since you are moving, start to declutter and decide what to give away and what to keep!
Buyers get confused by odd pieces of furniture in a room.  For example, in the master bedroom, you expect a  bed, a dresser or two and night stands with lamps.  If you have a sitting area you expect a chair or two, maybe a lamp and a small table.  Remove extra cabinets and chairs.
#4 Living Room
Start your decluttering process by looking at your furniture.  Is the furniture in good condition? Do you need to remove it or perhaps get slipcovers?  Remember, less is more when it comes to furniture in a room.  Does that piece belong in this room?  Does it add to the room? Minimize the furniture in the room and move furniture out from the wall. Clear off the end tables and coffee tables.  One magazine tastefully placed on a coffee table is fine or a plant is fine. If you have shelves under the end tables or coffee tables clear these out or place a couple books there, but remove the stack of papers.
#5 Closets

Take a look at all the closets in the house, your buyers will!  If you have a hall or entry closet, minimize the jackets and boxes stored there. Because buyer will open all closets and drawers, all need to be decluttered!  Again, you are moving, so start packing up now!  Look at your master closet.  Show the buyers there is plenty of room for clothes to hang and room to store items on the shelves.  Line shoes up neatly.
Look in your linen closet, again pack up items you don't immediately, especially seasonal items you won't use for a while.  Be sure towels are neatly folded and stacked.  Any extra toiletries should be neatly organized.
#6 Kids Rooms
We all know kids have their toys and favorite things.  There are probably many items they have outgrown that can be stored away or donated.  Start early to declutter the kids' room and organize bins or shelves. Again, if the room looks too small for your kids, they are probably too small for a buyer's too!
#7 Garage
The garage is a key area for buyers to see how much space is available for cars and storage.  Declutter and eliminate everything that you don't use or immediately need.  If you have storage cabinets in your garage be sure they are organized.
Often sellers move boxes, furniture, and other items to the garage to clear out the house.  Unfortunately now the garage looks cluttered and it sends the same message, there is not enough room in this house!  Consider renting a storage unit for a few months.  You can declutter the house, get rid of items you no longer need or want.  Take the time to donate usable but unnecessary items.
#8 The Money Is In The Details
Buyers need to picture themselves in the house they are walking through. They often get distracted by things out of the ordinary, such as clutter, furniture in a none traditional location in the house (ie a dining room used as a den or a dining room used as a bedroom).  If you are thinking of selling your house, talk to your realtor and take a stroll through a model home.
Model homes are furnished with modern furniture, appropriate window treatments with drapes and windows wide open to allow light to enter. Walls have attractive artwork that compliments the home, it doesn't distract from the mood.  Stacks of books, papers, boxes, and extra furniture distract buyers.  These things will also make a home look small and send a loud message to buyers that this house lacks enough store.  Buyers may think that if the current owner has run out of space, they will soon find themselves in that same situation.
Remember, you are moving!  Why not start packing up things you do not need every day. By packing items up early and moving excess furniture and other items to a storage unit, buyers can see the true potential of your house, they can picture themselves living in your house.  They can imagine their friends and family enjoying special times together.
 Contact the Shirley Coomer Group at Keller Williams Realty Sonoran Living

Call or Text: 602-770-0643 for more real estate information.
Summary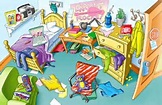 Article Name
What Does a Decluttered Home Look Like?
Description
why should sellers declutter their homes? how does it make a difference to buyers seeing a decluttered home? what sellers need to declutter
Author
Shirley Coomer at Keller Williams Realty
Publisher Name
Shirley Coomer at Mountain Park Ranch Real Estate
Publisher Logo