Before we get into the Chandler Real Estate Market Report for July 2020, we have a commentary written by Tina Tamboer.  Tina is the Senior Housing Analyst with the Cromford report. She was nice enough to let us use her summary of the Greater Phoenix Metro area as a backdrop for what is happening in Chandler this month. Here is her commentary:
The Greater Phoenix Metro Summary Analysis Real Estate Market Report
?     For Buyers -Chandler Real Estate Market Report July 2020
Greater Phoenix has a population of approximately 4.8 million people and 1.4 million single-family homes, condos, and townhomes in total inventory.  As of July 8th, only 8,579 of these units were available for sale through the Arizona Regional MLS.
If that number doesn't cause you to gasp, then this might: only 1,023 are single-family homes under $300,000 and that number is diminishing every day.
The last month has seen a surge of the buyer activity, but it was not met with an equivalent surge of new listings. New listings overall compared to last year were down 7.8% while contracts in escrow soared 24% higher.
For buyers under $300K however, new listings were down 22% in June compared to last year and are down 38% so far in July.  This is causing an extreme amount of buyer competition in this price range.
When buyers expand to over $300K, then new home construction starts supplementing inventory and providing some much-needed alternatives.
The top 3 cities for single-family home permits are Phoenix, Mesa, and Buckeye with notable spikes in building permits issued in Surprise, Maricopa, and Queen Creek.  Most new homes are selling between $300K-$500K, but buyers looking for a brand new single-family home under $300K still have some options.
Their best bet is in Pinal County or Buckeye with average sizes between 1,800-2,000 square feet for their budget.
Conversely, new listings over $500K saw a spike last month, up 20% over last year.  1,596 new listing came on the market and 2,046 contracts were accepted in this price range in June.
?    For Sellers – Chandler Real Estate Market Report July 2020
Brace yourselves.  Half of the sellers who accepted contracts under $400K in the first week of July were on the market for just 8 days or less with their agent prior to contract acceptance.
Sellers who took contracts between $400K-$600K had a median of 14 days on the market with their agent and those who landed contracts between $600K-$1M had a median of 41 days.  It's a good time to be a seller.
While 28% of all sales in July so far have closed over asking price, that percentage peaks at 41% for those between $200K-$300K.
Top cities for closings over asking price are Tolleson, Avondale, Glendale, Gilbert, and Youngtown.  Gilbert is the only city on that list with a median sale price of over $300K.
Seller-assisted closing costs remain popular and were involved in 23% of all sales in the first week of July. That percentage increases to 33% on transactions closed between $150K-$300K.
Top areas where 50%-60% of sales involved seller accepted closing cost assistance were Youngtown, West Phoenix, Aguila, Glendale, and Tolleson.
This supports the theory that sellers receiving offers over asking price in the West Valley and other affordable areas are still open to accepting closing cost assistance if a contract meets their most important needs.
Commentary was written by Tina Tamboer, Senior Housing Analyst with The Cromford Report
©2020 Cromford Associates LLC and Tamboer Consulting LLC.
Below you will find the statistical breakdown and more for the Chandler area Real Estate Market Report June 2020.
View All Current & Past Phoenix & East Valley Real Estate Market Reports
Below is a snapshot of Chandler's Real Estate Market Statistics for June 2020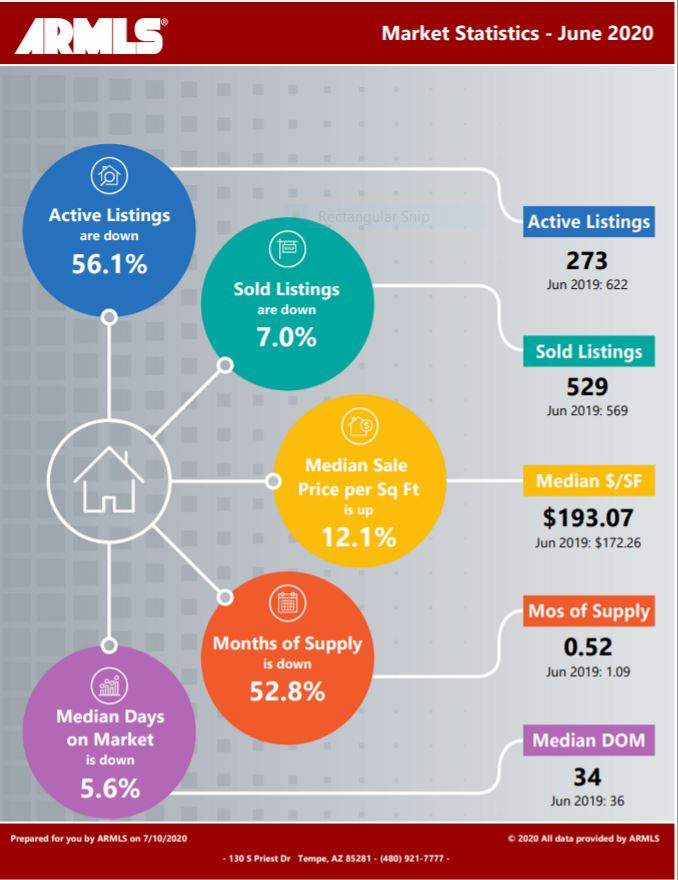 ?️     What are the Average Temperatures in Phoenix?
| Month | Low | High |
| --- | --- | --- |
| Jan | 43.4°F | 65.0°F |
| Feb | 47.0°F | 69.4°F |
| Mar | 51.1°F | 74.3°F |
| Apr | 57.5°F | 83.0°F |
| May | 66.3°F | 91.9°F |
| Jun | 75.2°F | 102.0°F |
| Jul | 81.4°F | 104.2°F |
| Aug | 80.4°F | 102.4°F |
| Sept | 74.5°F | 97.4°F |
| Oct | 62.9°F | 86.4°F |
| Nov | 50.0°F | 73.3°F |
| Dec | 43.5°F | 65.0°F |
Phoenix's coldest month is January when the average temperature overnight is 43.4°F. In July, the warmest month, the average day time temperature rises to 104.2°F.
If you would like to see specific homes as they come on the market, click here to get email updates.
?   A look at Chandler's current Sales Price. Real Estate Market Report for July 2020
In June, Chandler's Median Sales Price was $353,745, up from the last 2 months at $340,000. With inventory at historic lows, listings are getting multiple bids which is increasing the average. In June, Inventory was .52 months a 52% drop from last months inventory of 1.08.
If you are in the process of Buying or Selling a Home, Click on the highlighted link to see a number of interesting articles.
❓    What does this mean if you are a Seller or a Buyer?
Real Estate Market Report
As the chart above shows, Inventory in Chandler is at .52 months down 52% from last month's 1.08. Buyers should expect multiple offers since the inventory is so low. Make your offers with as few contingencies as possible. Know the Market Value of the home because you may need to go over list price to get it.
Sellers should be prepared for multiple bids on their homes. We are seeing this historic low inventory is creating a bidding war where buyers end up bidding above the sales price. There could be many over your list price.
If you would like to see specific homes as they come on the market, click here to get email updates.
?️   What is the annual rainfall in Phoenix?
| Month | Precipitation |
| --- | --- |
| Jan | 0.83in. |
| Feb | 0.77in. |
| Mar | 1.07in. |
| Apr | 0.25in. |
| May | 0.16in. |
| Jun | 0.09in. |
| Jul | 0.99in. |
| Aug | 0.94in. |
| Sept | 0.75in. |
| Oct | 0.79in. |
| Nov | 0.73in. |
| Dec | 0.92in. |
The driest month in Phoenix is June with 0.09 inches of precipitation, and with 1.07 inches March is the wettest month.
?️  Homes For Sale in Chandler AZ
Below are Homes that have come on the market in the last 7 Days around the Median price range. Also below the pictures, you will see a Chart of all the Chandler homes by price and Type:
Below are all the homes available in the city of Chandler by Dollar amount and type:
| | | | | |
| --- | --- | --- | --- | --- |
| Under $100,000 | Between $100,000-$200,000 | Between $200,000-$300,000 | Between $300,000-$400,000 | Between $400,000-$500,000 |
| Between $500,000-$600,000 | Between $600,000-$700,000 | Between $700,000-$800,000 | Between $800,000-$900,000 | Between $900,000-$1,000,000 |
| Over $1,000,000 | In Adult Communities | Foreclosed Homes | Short Sales | With Pools |
?  Below you will see the links for the other cities in the East Valley:
View All Current & Past Phoenix & East Valley Real Estate Market Reports
Contact the Shirley Coomer Group at Keller Williams Realty Sonoran Living
Call or Text: 602-770-0643 for more Real Estate Information
Chandler Real Estate Market Report July 2020
Summary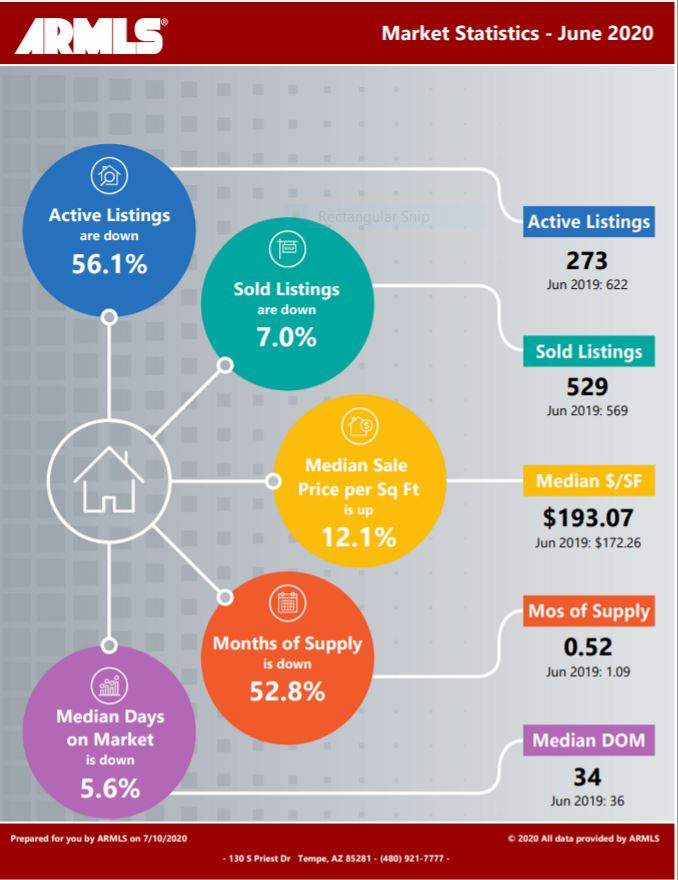 Article Name
Chandler Real Estate Market Report July 2020
Description
The Chandler Real Estate Market Report 2020 Shows the trends in Chandler AZ. Info from the Multiple Listing Service & is useful for buyers/sellers
Author
Publisher Name
Publisher Logo