Before we get into the Chandler Real Estate Market Report for May 2021, I have a commentary written by Tina Tamboer.  Tina is the Senior Housing Analyst with the Cromford report. She was nice enough to let us use her summary of the Greater Phoenix Metro area as a backdrop for what is happening in Chandler this month. Here is her commentary…..
?️  The Greater Phoenix Metro Summary Analysis Real Estate Market Report
62.8% of Homes Sold Considered Affordable Last Quarter
Median Sales Price Up 27%, Incomes Up 26%
?     For Buyers:
Despite all the incredible news about rising real estate prices, a family making the median income of $79,000 in Greater Phoenix could still afford 62.8% of what sold in the first quarter of 2021. The National Association of Home Builders (NAHB.org) assumes that "a family can afford to spend 28% of its gross income on housing."
That means 62.8% of homes sold cost their new owners $1,843 per month or less assuming a 10% down payment and including principal, interest, taxes and insurance. According to HUD, $79,000 represents a 26% increase in the local median annual income over the past 5 years; up $16,500 from $62,500 in 2016.
While reassuring, it doesn't remove the frustrations of competing for homes in this marketplace. Last month, 56% of all sales closed over asking price and half of them went $15,000 over or more to win. For the last 7 weeks, half of all listings that went under contract in the MLS were active for just 6 days or less.
However, the last few months have shown a glimmer of relief for buyers as supply counts actually stopped declining; and in price ranges between $500K-$800K they have noticeably increased 40% since February. Supply is still 69% lower than last year at this time so there's a long way to go before it's considered normal, but it's something.
?    For Sellers:
You're not going to notice this, but the housing market has begun to cool down.  It's still hot however, like 400 degrees is still hot despite being cooler than 500 degrees. Sellers can still expect multiple offers and closings over asking price; however it's important to note that supply has stopped dropping and has been rising in certain price points over $500K.
Seasonally speaking, Greater Phoenix supply should be dropping at this time of year, not going flat or rising.  When measures go against the season, it can be the beginning of a shift.
The reason this shift will not be noticed is because supply is still much lower than demand, so any slight increase in competition is inconsequential to a seller's ability to secure a buyer, even one willing to pay over asking price.
One of the early indicators that a market is shifting, however, is the number of list price reductions. For example, supply between $600K-$800K has risen 45% since late February; in the same time frame, the number of weekly price reductions increased 223% and hit the highest count taken in nearly 6 months. That's notable.  However in other price points where supply has flattened out, price reductions have remained low and stable.
Why good idea to use a Realtor
The advantage in any market, not just housing, is being one of the first to know when things are shifting. Especially today, it's a good idea to consult a Realtor® who can analyze your price point and area so you can make an informed decision regarding the sale of your home.
Commentary written by Tina Tamboer, Senior Housing Analyst with The Cromford Report
©2020 Cromford Associates LLC and Tamboer Consulting LLC
Below you will find the statistical breakdown and more for the Chandler area Real Estate Market Report April  2021.
View All Current & Past Phoenix & East Valley Real Estate Market Reports
Homes For Sale In Chandler, Az.

See below for All homes for sale in Chandler, Az by price and Zip Code:

  1   2   3   4   5   6
  ?   Below is a snapshot of Chandler's Real Estate Market Statistics for April 2021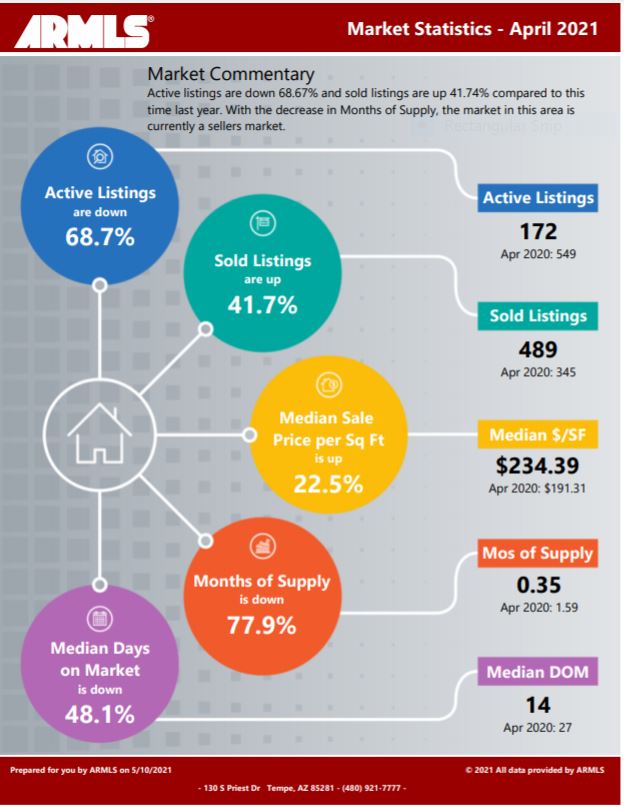 ?️     What are the Average Temperatures in Phoenix?
| Month | Low | High |
| --- | --- | --- |
| Jan | 43.4°F | 65.0°F |
| Feb | 47.0°F | 69.4°F |
| Mar | 51.1°F | 74.3°F |
| Apr | 57.5°F | 83.0°F |
| May | 66.3°F | 91.9°F |
| Jun | 75.2°F | 102.0°F |
| Jul | 81.4°F | 104.2°F |
| Aug | 80.4°F | 102.4°F |
| Sept | 74.5°F | 97.4°F |
| Oct | 62.9°F | 86.4°F |
| Nov | 50.0°F | 73.3°F |
| Dec | 43.5°F | 65.0°F |
Phoenix's coldest month is January when the average temperature overnight is 43.4°F. In July, the warmest month, the average day time temperature rises to 104.2°F. If you would like to see specific homes as they come on the market, click here to get email updates.
?   A look at Chandler's current Sales Price. Real Estate Market Report for May 2021
In April, Chandler's Median Sales Price was $444,000 up from the prior months $418,500 &  $381,000.  With inventory continuing to run at all time lows, listings are getting multiple bids thus putting pressure on the price. If you read Tina's piece on Buyers above, this is consistent throughout the valley.
If you are in the process of Buying or Selling a Home, Click on the highlighted link to see a number of interesting articles.
❓    What does this mean if you are a Buyer or a Seller?
Real Estate Market Report
As the chart above shows, Inventory in Chandler continues to remain extremely low. This month we are at .35 up from last month's .20. Buyers should expect multiple offers since the inventory is so low. Make your offers with as few contingencies as possible. Know the Market Value of the home because you may need to go over that price to get the house.
Sellers should be prepared for multiple offers on their homes. We are seeing these historic low inventory levels creating a bidding war which is putting pressure on the buyers to bid above the sales price to get the home. Know the market value of your home, so you don't accept an offer that causes an appraisal issue. Look for offers with appraisal waivers / contingencies.
If you would like to see specific homes as they come on the market, click here to get email updates.
?️   What is the annual rainfall in Phoenix?
| Month | Precipitation |
| --- | --- |
| Jan | 0.83in. |
| Feb | 0.77in. |
| Mar | 1.07in. |
| Apr | 0.25in. |
| May | 0.16in. |
| Jun | 0.09in. |
| Jul | 0.99in. |
| Aug | 0.94in. |
| Sept | 0.75in. |
| Oct | 0.79in. |
| Nov | 0.73in. |
| Dec | 0.92in. |
The driest month in Phoenix is June with 0.09 inches of precipitation, and with 1.07 inches March is the wettest month.  
?️  Homes For Sale in Chandler AZ
Below are Homes that have come on the market in the last 7 Days around the Median price range. Also below the pictures, you will see a Chart of all the Chandler homes by price and Type: Below are all the homes available in the city of  Chandler by Dollar amount and type:
| | | | | |
| --- | --- | --- | --- | --- |
| Under $100,000 | Between $100,000-$200,000 | Between $200,000-$300,000 | Between $300,000-$400,000 | Between $400,000-$500,000 |
| Between $500,000-$600,000 | Between $600,000-$700,000 | Between $700,000-$800,000 | Between $800,000-$900,000 | Between $900,000-$1,000,000 |
| Over $1,000,000 | In Adult Communities | Foreclosed Homes | Short Sales | With Pools |
?  Below you will see the links for the other cities in the East Valley:
View All Current & Past Phoenix & East Valley Real Estate Market Reports
Contact the Shirley Coomer Group at Keller Williams Realty Sonoran Living
Call or Text: 602-770-0643 for more Real Estate Information.
Summary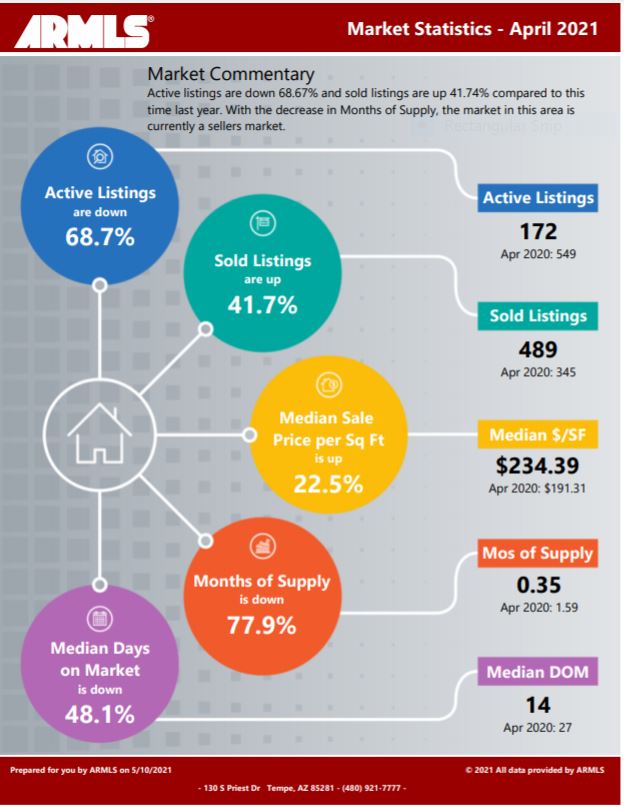 Article Name
Chandler Real Estate Market Report May 2021
Description
Chandler Real Estate Market Report May 2021. Learn about the housing market in Phoenix,& what it means to buyers & sellers.
Author
Publisher Name
Publisher Logo