The Master planned community of Seville is located in Gilbert Arizona.  Seville offers homeowners an exceptional place to live and play. Additionally, Seville is a lifestyle.  Also, here you will find a meticulously planned community with a variety of home styles and prices.  And, if you are looking for houses for sale in Seville master-planned community in Gilbert, AZ., there is something for everyone!
?️ Home Styles in Seville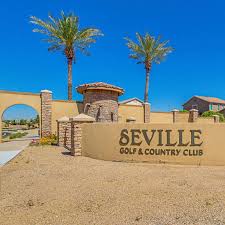 This community was developed between 1997 and 2019.  Here, homebuyers will find a wide selection of Mediterranean-style and southwestern style homes. Here you will find both single-story and two-story homes. , There are many subcommunities throughout Seville. Today there are over 3500 homes in this Seville community.  The zip code for Seville Golf & Country Club is 85298. You only find these amenities in an amazing Master Planned Community!
There are gated communities within Seville.  Today, all homes in Seville are single-family homes.  Homes range from 1215 Square feet up to over 11,000 SF! Something for everyone!
The last community to be built was a Toll Brothers community called Legacy at Seville.  This is a gated community of 61 single level homes, each sitting on approximately 9,800 SF lots.
The Legacy homes have golf course views as well as views of the San Tan Mountains. These homeowners have the country club amenities included as well as community parks within the gated community.
?  Available Houses for Sale in Seville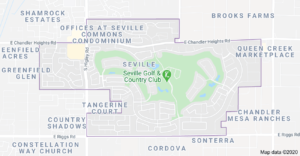 ❓  What Will You Find in Seville

?

As you enter this world-class community you will think you are entering a high-end resort,. Experience the Seville Golf & Country Club with its championship-style golf course.

Additional amenities in Seville include pools, a water park, a fitness center, salon, spa, tennis courts, and meeting rooms.

Also, don't forget the Seville Swimming & Water Park where guests experience pools, water slides, and splash pad.  Don't miss the lagoon pool or the negative edge lap pool.

Over 250,000 gallons of water pulse through the various amenities. Done with swimming? Relax in the Cabanas and read a book.
⛳  The Seville Golf & Country Club
This is a private facility located inside the master-planned community of Seville.  The golf course is an award-winning course designed by Gary Panks, ASGCA,  This is one of many he has designed in the Phoenix valley. The 18 hole course. Membership for the Country Club must be purchased by homeowners. Also, it is not included in the monthly Home Owner Association (HOA) fees.
Additionally, this community was opened in April of 2004. The clubhouse is over 30,000 Square feet.  Also, it features such architecture features such as travertine tile, a 50-foot bell tower, large arching entryways, and expansive terraces. In addition, there are cozy sitting areas that make this huge facility feel more intimate.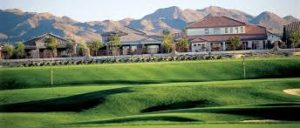 Bolero's Restaurant and Bar in This Master-Planned Community
This restaurant is located in the clubhouse and has amazing views across the golf course and San Tan Mountains.  Indoor and patio dining is available.
Changing Rooms
These are located within the facility.  Also, these are designed with mahogany lockers and individual shower facilities for members
Sports Club
This facility features tennis, basketball, and volleyball.
Aquatics center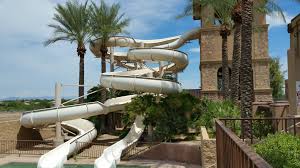 This features a junior-Olympic sized swimming pool, two waterslides, children's water lagoon, fitness center, a movie theater, movement studio, child care room, and a multipurpose room.
Seven Community Parks in This Master-Planned Community
There are seven community parks located within the community.   Residents enjoy parks that include playgrounds, 3 basketball courts, and 3 volleyball courts, picnic, and ramadas.  There is significant space for outdoor recreation.  There is a network of walking and biking trails that take you all over the community.
Schools
All parents are concerned about the quality of education their children will receive.  Therefore, there are several school options for residents of Seville.  Also, from public schools to Charter schools, parents have many choices.
Gilbert Wedding Venue
The beauty of the Seville Golf and country club make it a popular wedding venue for many local couples.  Imagine holding your special day with the beautiful mountain views in a Tuscan setting.  Also, this venue can accommodate wedding ceremonies and receptions.  Their catering will provide a memorable meal and their amazing wedding cakes will delight everyone! The perfect place for your special day!  Click here for more information on Weddings at Seville in Gilbert, Arizona.
Shopping and Dining
Seville is a 15-minute drive to the fantastic amenities found at Gilbert's Heritage District.  Also, there has been a revitalization of downtown Gilbert.  Additionally, that includes a variety of restaurants, shopping, and activities for residents to enjoy.  Also, you are also close to The San Tan Village Shopping Mall.  And, this outdoor mall features over 100 stores and restaurants.
Selling a Property Anywhere?
If you have a house you would like help selling, anywhere in the nation, contact the Shirley Coomer Group of Keller Williams Realty to talk to a great listing agent. 602-77-0643.
?  Seville Resource Center link
Documents in the Seville HOA link
Included Documents: – Architectural Requests – Board Room – Governing Documents – Insurance Certificates – Seville Patrol
For Information about Documents that may be important to residents of Seville –
CLICK HERE
❓ Does the Seville Community in Gilbert, Az have a Home Owner's Association (HOA)?
Yes, the Seville community does have a HOA.  Depending on the community within Seville, you may need to belong to the Master Planned Seville HOA .  This would be in addition to a HOA if you live in one of the gated communities.
Click HERE to go to the Seville Home Owner's Association.
?️‍♀️  For more information on the Golf and Country Club Membership
Want more information on the Golf and Country Club memberships?  CLICK HERE
6683 South Clubhouse Drive
Gilbert, AZ 85298 
480-722-8100
? What is there to do in Gilbert, AZ each month?
?️  View ALL Homes that have come on the market in the last 7 Days around the Median price
range.
Interested in buying an existing home in Gilbert?
?️  View ALL

Homes For Sale in Gilbert AZ by Zip Code and Dollar Amount.
Keller Williams Realty Phoenix
Contact the Shirley Coomer Group at Keller Williams Realty Sonoran Living
Call or Text: 602-770-0643 for more Real Estate Information
Houses for Sale in Seville Master Planned Community in Gilbert, AZ.