The city of Gilbert Arizona is part of the metro Phoenix Arizona area. This growth has caused a shortage of houses for sale in Gilbert, Arizona Gilbert started as a small farming community in Maricopa County in about 1920.
And it has grown into the 6th largest municipality in the state. In July 2020, Gilbert celebrated its 100th Birthday!
As the city has grown, the many acres of once fertile farmland has turned into one residential community after another.  Gilbert Az Real Estate has increased in demand, and builders are accomodating the increased need!  How does Gilbert manage this growth?   Check out the following YouTube video on Gilbert City planning:
 Gilbert's current population estimate of 266,971 doubled every five years from 1980-2000. By 2030, Gilbert is expected to be fully built out, with an anticipated population of over 300,000.  Gilbert is growing to be one of the largest cities in Arizona.
The community boasts a younger population, with a median age of 33.8 years old.  Also, 67.6 % of the population under the age of 45.  This younger population typically has families and quality housing is a top priority!
?  Where in Arizona is Gilbert?
The town of Gilbert is located in Maricopa County, Arizona. It is in the Phoenix metro area.  Gilbert is located in the southeast valley east of the city of Phoenix. Getting from Gilbert to anywhere in the Metro area is easy via US 60 or the Arizona Loop 202.
It is approximately 14 miles from downtown Gilbert to the Phoenix Sky Harbor airport. If you are traveling into or out of the Mesa Gateway airports plan on a 10-mile trip.
❓   How far is it from Gilbert Az to Phoenix Az?
From downtown Gilbert to downtown Phoenix is about 22 miles.  This can be an easy 30-minute comment along US-60 or using the Loop 202. This is an easy commute if you are working in downtown Phoenix.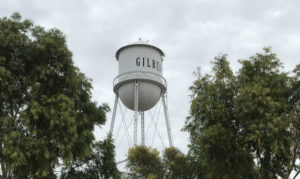 ?  What is Gilbert, Az Known For?
Gilbert is known for having a small-town feeling in spite of its growth.   With the freeway system, it is easy to get around the Phoenix metro area, so there you live or work in Gilbert access anywhere is convenient.
The downtown area of Gilbert has taken off with the huge growth of restaurants and night clubs in the Gilbert Heritage District.  There are many local restaurants along with larger chain restaurants.
There is the ever-popular night club area within the Heritage District. Bars and restaurants cover several blocks.  This no longer looks like a sleepy farm community!
The city planners in Gilbert continue to add recreational areas.   The Parks and Recreation Department is developing The Strand @ Gilbert.  This will be a 25-acre skills-based water park that will be part of Gilbert Regional Park, the new 272-acre park that is currently being built near Higley and Queen Creek roads. The opening date is scheduled for 2021.
For more information Click Here ?  The  Strand
?️   What is the Temperature like in Gilbert Az?
| Month | Low | High |
| --- | --- | --- |
| Jan | 43.4°F | 65.0°F |
| Feb | 47.0°F | 69.4°F |
| Mar | 51.1°F | 74.3°F |
| Apr | 57.5°F | 83.0°F |
| May | 66.3°F | 91.9°F |
| Jun | 75.2°F | 102.0°F |
| Jul | 81.4°F | 104.2°F |
| Aug | 80.4°F | 102.4°F |
| Sept | 74.5°F | 97.4°F |
| Oct | 62.9°F | 86.4°F |
| Nov | 50.0°F | 73.3°F |
| Dec | 43.5°F | 65.0°F |
The coldest month is January when the average temperature overnight is 43.4°F. In July, the warmest month, the average day time temperature rises to 104.2°F.
❓  What Zip Codes are Associated With Gilbert, Az?
Today, Gilbert is made up of the following zip codes – 85234, 85296,85295, 85297, 852989 & 85233.  See the map below for a geographical view of each zip code.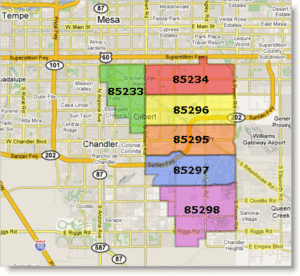 ☂️  What is the Average Rainfall for Gilbert, Az?
| Month | Precipitation |
| --- | --- |
| Jan | 0.83in. |
| Feb | 0.77in. |
| Mar | 1.07in. |
| Apr | 0.25in. |
| May | 0.16in. |
| Jun | 0.09in. |
| Jul | 0.99in. |
| Aug | 0.94in. |
| Sept | 0.75in. |
| Oct | 0.79in. |
| Nov | 0.73in. |
| Dec | 0.92in. |
The driest month in Phoenix is June with 0.09 inches of precipitation, and with 1.07 inches March is the wettest month.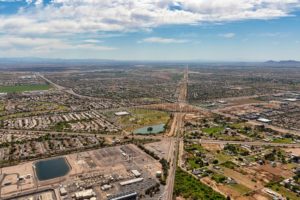 ?  What is the Average Income in Gilbert, Az, and Can Folks Afford Houses for sale in Gilbert, Az?
The average income of a Gilbert resident is $31,546 a year. The US average is $28,555 a year. – The Median household income of a Gilbert resident is $81,485 a year.  There are many major employers in Gilbert, including the medical field, technology, and education. This multitude of employers helps drive up the median household income.
Are you looking for new home construction?
You may also be interested in reading about Buying in a Home Owners Association (HOA).
?  What is the Average Home Price in Gilbert Az?
In June, Gilbert's Median Sales Price was $375,000 as compared to last months $365,000. With inventory levels at an all-time low of .38 months of inventory, there are many more multiple offer situations. This is putting pressure on the price.  Due to the shortage of homes for sale in Gilbert, buyers are looking to new build construction.
There are two types of new builds for buyers to consider.  First, a buyer can visit a new home community and select a lot and floorplan they want to purchase.  The typical build time will vary by builder, but for July 2020 we are seeing an average time of 8 – 10 months.
The other option for buyers is to find a home the building has completed or that is near completion.  Some of these are referred to as "spec" homes.  A builder will build a house and select any and all finishes for the house.  A buyer can but the house with a wait of only a month or so, instead of the 8 – 10 months.
Interested in buying an existing home in Gilbert?  See below for all Houses for sale in Gilbert, Arizona by Zip Code.
Keller Williams Realty Phoenix
Contact the Shirley Coomer Group at Keller Williams Realty Sonoran Living
               scoomer@kw.com
Call or Text: 602-770-0643 for more Real Estate Information
? Gilbert Arizona Real Estate