When buyers walk into your home, they are not only looking at the house features, they see your furniture and how you live. Buyers expect to see a kitchen that looks like a kitchen, a living room that looks like a living room.  Also, buyers expect to see a dining room looking like a dining room!
#1 Dining Room Table
The dining room table is usually the focal point of the room. If your chair cushions are soiled or frayed, consider recovering them or finding complimenting chairs.  The table and chairs do not need to match but should complement each other.  Leave a maximum of six chairs around the table.  Don't add all eight of your chairs to the table to show how many people the table seats.  More than six chairs and the room looks crowded.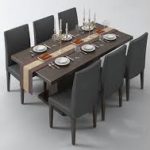 If you have several chairs, consider just keeping a few around the table.  Note the interesting arrangement of the picture at the left.   Instead of a chair on either end, three chairs are lined up on either side to encourage conversation.  Help buyers see themselves entertaining friends and family in your dining room!
#2 Light Fixtures
Do your light fixtures need to be updated? Most dining rooms have a large light or chandelier over the table.  Consider updating the lighting if your fixtures are dated.  There are inexpensive options at Home Depot or Lowes.  In any event, be sure to use high wattage bulbs,  and all bulbs work  Also, be sure is it sparkling clean.  Be sure the wall switches are clean and in good repair. Replace any cracked or damaged electrical plates or switches.  If your room needs more light, consider an interesting lamp on a sideboard or side table.
#3 China Cabinet
If you have a china cabinet in your dining room, be sure the inside is dusted as well as the outside.  Minimize the dishes you have inside the cabinet.  The display should be organized and minimal.  Remember,  you are moving, so starting to declutter inside of a china cabinet is a good way to get started!  The dishes you display when staging your dining room should match set or perhaps some attractive pottery pieces.
?  How do you stage a living room dining combo?
You will want a smooth transition from the living room to the dining room. Many homes have the two rooms adjacent.  There is clear definition of which room is which, however, there is no wall.  First, be sure to tie together the window treatments, keeping the room's light and bright. Also be sure your colors complement each other, not distract.   You want to feel the continuity between the rooms.
If you have a contemporary living room area, you wouldn't want antique dining furniture.  Also, be sure the buyer can easily move between the rooms, consider your furniture placement for ease of movement. It is helpful if your light fixtures share that feeling of continuity.
Many homes have a large hanging light inside the front door.  Consider updating that light and coordinate the look over the dining room.  Buyers love dramatic lights and these will be among the first sights a buyer encounters when they enter the house.
❓  How can I make my dining room feel cozy?
Make your dining room feel attractive and welcoming.  Consider adding a rug under the table. Also, painting a contracting wall (or two) a soft yet warm color can add to the cozy feel.  You want your buyers to see themselves hosting friends and family in this room.  No bold and crazy colors!  Look at your walls.  Simple yet neutral artwork will add an elegant feeling and help the buyer visualize themselves in YOUR dining room!
#4 A Dining Room or an Office?
If you have been using your dining room as a home office, consider returning the room to a dining room while your home is on the market.  Buyers are confused by pool tables and desks in a dining room.  Again, you want buyers to see themselves entertaining and enjoying your house.  If you are using your dining room for an office, a buyer may think there isn't enough room in the house for an office area.  Again, this gives the impression the house may be too small for them also!
#5 Can I Rent Furniture?
If you don't have dining room furniture or if yours is worn or damaged, consider buying a set a Goodwill or a second-hand store.  Or, another option would be to rent dining room furniture. this can be done through a furniture rental company or a staging company. It is important for buyers to see rooms set up and they would use them, so a dining room should look like a dining room.
#6 Should a Dining Room Have A Rug?
Depending on the size of the room, adding a run under the table can draw the room together and add color to the room. If you have a small dining room, you may be better to skip the rug and seeing all solid flooring makes the room look larger. If you choose to add a rug, be sure you have at least 24 inches of extra room on all sides of the dining table.  You don't want guests to trip when pulling out the chairs.
#7 Add Artwork to the Wall to Stage a Dining Room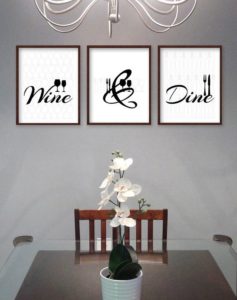 Don't forget to add tasteful artwork to the room.  Find a wall area and use a single piece of art or combine a tasteful grouping of pictures (not family). Because you may have a small dining room, a mirror will reflect light and make the room look bigger.  You don't need to have art on every wall.  Less is more!  When there is or pictures on all the walls, it can make the room look smaller.
#8 Should You Paint Your Dining Room?
Your dining room should be neutral and inviting.  Light and neutral colors will make the room look bigger.  If you have dark walls, definitely paint them.  Remember, the house you live in is not the house you put on the market.  Perhaps the deep burgundy walls go nicely with your table settings and drapery, but you are moving, so pack up and go neutral!  When you choose to paint the room, this is a great opportunity to remove nails in the wall and fill in the holes. It is very distracting for buyers to see holes in the wall.  This screams WORK to a buyer.
If you enjoyed this article, you might also enjoy, How to stage A living Room When Selling A house
#9 How Should I Stage my Windows?
Your windows should allow in as much light as possible.  If you have heavy and dark drapes, consider removing them or replacing them with lighter ones.  Be sure the windows and sparkling clean and window sills are dust and fly free!
#10 Leave Off the Table Cloth When Staging a Dining Room
Unless you need to hide a less than perfect dining room table, leave the table cloth off. You want the room to look light and bright.  A table cloth can add weight to the room.  If you must use a table cloth, choose something light and neutral.  Or consider a table runner down the middle of the table.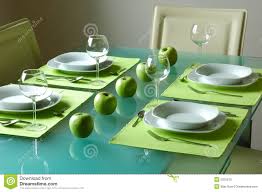 #11 Should I Set the Dining Room Table
You can either set the table to look inviting or add a bouquet of flowers.  Another option is to use a table runner and a bouquet of flowers. Either option is fine as you want your buyers to find the room welcoming.  Because you want the buyers to picture themselves and their family enjoying the room, either option will work.
#12 Should I use Doilies when I Stage a Dining room?
Definitely not!  Doilies will date a room and distract a buyer.  Best to leave tables uncovered or use a table runner.
#13 What Should I Avoid When Staging a Dining Room?
When staging a dining room, avoid the plastic or silk flowers and plants.  Because buyers will immediately recognize these are fake, they may wonder what else is fake in the house! Avoid having any furniture extending into doorways or over windows. Be sure all rooms are staged for their intended purpose. A dining room is not a bedroom, a toy room or an office.  Avoid anything potentially creepy, such as bizarre lamps, dolls or animal heads.
Buyers expect to see a table and chairs in a dining room, along with a china cabinet. Buyers are easily distracted, so be sure your dining room conveys warms and an invitation to entertain and enjoy family and friends.  You don't have to spend a lot of money in a dining room.  Remember you are moving, so starting to pack up extra dishes, pictures or items cluttering your dining room is a great way to being the moving process.
#14 Phoenix Homes on the Market in the last 7 days
       $250,000 – $350,000
For Real Estate contact Keller Williams Realty Phoenix:
Contact the Shirley Coomer Group at Keller Williams Realty Sonoran Living

Call or Text: 602-770-0643 for more Real Estate information.
Summary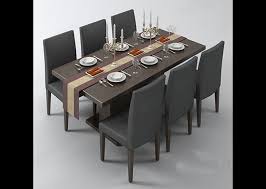 Article Name
How to stage a dining room
Description
How to stage a dining room to sell fast. declutter, set the table, minimize your furniture consider adding a rug, remove heavy curtains
Author
Shirley Coomer at Keller Williams Realty
Publisher Name
Shirley Coomer at Mountain Park Ranch Real Estate
Publisher Logo