We know buyers are very picky about bathrooms, so it is important to know how to stage a bathroom to sell a house fast.  Have you wondered How to Stage a Bathroom To Sell A House in Phoenix, Az?  How do you make your bathroom inviting for buyers? What do you need to do to catch the eye of a buyer and ensure they remember your inviting and spa-like bathroom?  See the suggestions below!
https://youtu.be/GZFRuJYEHzI
#1 Do I have to Clean and Declutter Sell A House in Phoenix, Az?
We know that bathrooms and kitchens sell homes.  How do you get a bathroom ready for sale?  Clean, clean, clean, Declutter, declutter, and declutter.  How can buyers visualize themselves or their guests living in your home unless it is sparkling clean and well-staged, and depersonalized?  How do you give your bathroom that welcoming  "spa" look?
First, remove everything from the countertops, including make-up, hairdryer, curling iron, combs, and brushes.  Place the items in a basket and place them under the sink.  This helps you get the items out when you need them but easily put away after use. 

Next, clean out the medicine cabinet.  Throw out any empty or outdated bottles.  Buyers want to know there is enough space in the medicine cabinets and under the cabinets. Wipe off the shelves.
If your items in the medicine cabinets are stuffed in, buyers will think there won't be enough room for their items either!  Remove any prescription bottles in the medicine cabinet and tuck them away.
#2 What Should I Do About the Bathtub and Shower?
Check out the tub or shower and be sure the tub is sparkling clean and all grout is clean and fresh.  Do you need a new shower curtain?  Is your shower liner clean and mildew free?  Do you need to buy a more neutral shower curtain?  And don't forget to clean the grout and eliminate any appearance of mildew.
If needed, regrout the tub and shower.  However, since you are selling your house, and not your shampoos and conditioners, remove these from the shower and tub.  Again, place these items in a basket so you can get them out when needed and store away after use.
Check out the faucets and be sure there is no dripping.  And consider updating the faucets if needed.  Take a look at your drains and be sure water drains normally.  Keep in mind that your buyers will have a home inspection and the inspector will be checking on how the drains work.  In the shower or tub be sure the soap dish is clean and free of clumps of old soap.  Place a clean bar of soap in the soap dish.
#3 Should I Paint in Neutral Colors to Stage a Bathroom To Sell A House in Phoenix, Az?
Does the room need a fresh coat of paint?  Consider painting the room a light neutral color.  And remember, the house you live in is not the house you put on the market.  The red and purple you love may not appeal to buyers.  While it is easy to paint a bathroom, seeing a color they don't like screams "work" to buyers.  Fill in any nail holes and repaint the bathroom in a fresh neutral color.  Don't forget the woodwork and door, as well as door frames.
#4 How About Towels and Linen Closets?
Do you have a linen closet?  If so, be sure the towels are stacked nicely and there appears to be enough room for all towels and linens. You want to stage a bathroom to sell a house by making it feel spacious, light and bright.  Since you are moving, if you have extras, place items in tubs and move to the garage or better yet, a storage locker.
Let buyers see there is plenty of storage space. If you don't have great fluffy towels, consider purchasing a matching set of white towels to hang up.  Ever wonder how to fold your towels so your bathroom looks like a spa?  Check the video at the top.
How to Stage a Bathroom To Sell A House in Phoenix, Az requires a little bit of time but little money. It is a small room but it is very important that Buyers like it!
#5 How Do I Make it Look Like I Have Bathroom Storage?
Look under the sink in the vanity.  Again, declutter and let a buyer see how much room you have under the sink.   Rugs on the floor?  Then remove them so the room looks bigger.  Buyers should be able to see amble storage space.  Again, if you are short of space, they will believe they will be too!
#6 Toilet?
Remove the toilet cleaning brush,  plunger, and wastebasket from the floor.  Leave nothing on the floor.  Be sure to place the toilet lid is down for any house showings.  We all know what a toilet is for, but we don't need to see inside!  If you have any toilet lid covers be sure to remove them for a clean fresh look.
As you get your house ready to sell you may also enjoy reading about How to Seller Your House with Pets.
#7 What About Bathroom Widows?
Check out your bathroom windows and be sure the blinds are dust-free.  If you have curtains on the windows with blinds, consider removing the curtains for a fresh clean look. A window with just blinds makes a room look larger.  Be sure the windows are clean inside and out!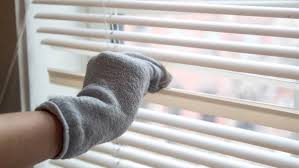 #8 Do Bathroom Hardware and Lights Really Make a Difference?
How are your towel bars?  And do you need to replace them?  This is a very inexpensive fix but can help buyers see a fresh room.
How is your bathroom mirror?   If you have the traditional large mirror which spans both master bedroom sinks, you can frame this mirror, which updates the look of the room.  You can choose to remove this large mirror and replace it with matching twin mirrors to place over each sink.
How are the lights in the bathroom?  New lights can be inexpensive and go a long way to saying "Updated" to potential buyers.  These are easy to replace, either as a DIY  or hiring a handyman or electrician to replace the lights you have purchased.
#9 How do I Put the Room Back Together?
Now that you have painted and cleaned the bathroom you are ready to add back a few items.  You are going to add new fresh towels to your new towel bars.
What should you put on the counters?  Consider an attractive soap container and a flowering plant,    On the tub, you can add a loofah sponge a folded shower rug, and an attractive bottle of shampoo.  Add a few candles to convey to a buyer that your bathroom is spa-like and a welcoming place to relax.
If you are selling your house, you may also enjoy reading about Selling Costs When Selling a House in Phoenix, Az.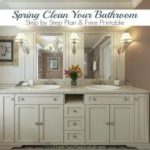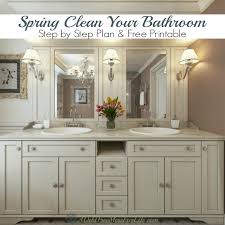 Don't forget to check out your light bulbs.  Be sure your light bulbs are not dusty. When staging your home for sale, I recommend the brightest bulbs safely possible. Be sure all light bulbs are working!  You want the room as light and bright as possible.
Double-check the mirror and be sure it is streak-free!  What is the best way to clean a mirror?  Start with a flat-weave microfiber cloth. Next, use a good quality glass cleaner or make your own with white vinegar and water (mix a 50/50 solution of vinegar and water)
Often wood cupboards in a bathroom get dried out or have water stains.  If the wood is in good condition, use quality wood polish on the cabinets and doors.  This freshens up the wood and adds a nice shine.
Be sure to remove any excess polish so the cabinets are not slippery when opening.  What if the cabinets are showing their age?  Consider painting them for a fresh look and adding hardware.
#10 What about air Fresheners?
Often sellers want to have the bathroom smelling fresh and use an air freshener.  Be careful with air fresheners.  A potential buyer may think you are hiding a bad smell.  If you do want to use an air freshener, try a light citrus scent.  This has a clean order and is less objectionable to most people.
A 2013 study published in the Journal of Retailing by Eric Spangenberg, now the dean of the Paul Merage School of Business at the University of California-Irvine, found shoppers spent an average of 31.8 percent more money in a home decor store when it was scented with a simple orange scent, rather than a blend of scents.
#11 How Can I Make The Room More Inviting to Stage a Bathroom To Sell A House in Phoenix, Az?
Look for any worn fixures or drippy faucets and get them repaired or replaced.  Buyers will notice even a minor drip in a faucet.  Also, check under the cabinet to ensure you have no active drips.  When a buyer sees an active drip, it shouts the owner is not maintaining the house.  Any dripping or leaking faucet will show up on a home inspection report, and the buyer will likely ask you to fix the leak.  Why not just fix it now?
Check your drains and be sure they are unclogged and drain well.  Buyers will certainly get a home inspection.  And the home inspectors note how well the drains work.
What else can you do to make the bathroom more inviting?  Take the spa concept a bit further and hang up a fluffy white robe.  Slip the robe on a nice padded hanger, just like you might see at a nice spa.  Place a nice stack of folded towels on a bamboo tray and set this on the side of the tub.
If you are planning to sell your house you may also want to look at the reason some sellers Bury a St. Joseph Statue in their yard.
Don't forget to place a fresh roll of toilet paper on the roll.  Fold the end of the paper into a point like you see at hotels.  This is a small thing, but leaves an impression on the buyer as they look into the room, see fresh fluffy white towels and a white robe.  The whole room conveys to a buyer that when they buy your house, they too can have a spa-like and welcoming bathroom.  Repeat this will all bathrooms (unless you have a bathroom specifically for children).
#12 Sell This House!
Now you are ready for buyers to look at your house and decide they want to make it their new home!
We know bathrooms are important to buyers and factor into their home buying decision.  Because you want buyers to remember YOUR spa-like bathroom after viewing several homes, you will want to take some time to make your bathroom memorable.  These updates and ideas are inexpensive and easy to complete in a short amount of time.  And these ideas will help get you top dollar for your house!
#13 Phoenix Homes on the Market in the last 7 days
       $250,000 – $350,000
 Contact the Shirley Coomer Group at Keller Williams Realty Sonoran Living

Call or Text: 602-770-0643 for more Real Estate Information
How to Stage a Bathroom To Sell A House in Phoenix, Az
How to Stage a Bathroom To Sell A House in Phoenix, Az
Summary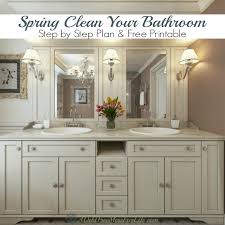 Article Name
How to Stage a Bathroom To Sell A House in Phoenix, Az
Description
How to stage a bathroom when you are ready to sell your house. clean, declutter, paint, make your bathroom inviting and spa like
Author
Shirley Coomer at Keller Williams Realty
Publisher Name
Shirley Coomer at Mountain Park Ranch Real Estate
Publisher Logo