Before we get into the Tempe Real Estate Market Report November 2019, I have a commentary written by Tina Tamboer. She is the Senior Housing Analyst with the Cromford report. She was nice enough to let us use her summary of the Greater Phoenix Metro area as a backdrop for what is happening in Chandler this month. Here is her commentary…….
The Greater Phoenix Metro Summary Analysis Real Estate Market Report
Contracts In Escrow Up 19% Over Last Year. Despite Rising Prices, Affordability is Good
For Buyers:
Buyers waiting for prices to come down have been sorely disappointed so far in 2019. The average sale price per square foot is up 6.7% since last November and the median sales price is now $283,000, up $21,000 from last November's measure of $262,000.
Despite rising prices, affordability has remained normal throughout the year. One relevant factor is Private Sector Earnings in Greater Phoenix has risen 4.5% annually as interest rates have continuallydeclined. The median family income was measured at $72,900 last quarter and families making that income could afford 68% of what sold last quarter (according to the HOI index published by the National Association of Home Builders and Wells Fargo).
The historical norm for our market is 60-75%. Clearly not all buyers have parked on the fence, demand has been hovering 6-7% above normal for our area for about 4 months while supply is 44% below normal. The only measurable relief for buyers
is last month's supply level was 47% below normal, so it's 3% less hard to find something suitable.
For Sellers:
The number of listings under contract may have declined 26% from its May seasonal peak, but it's nearly 19% higher than it was this time last year. This, combined with monthly sales up nearly 15%over last year, is a solid indicator that year-end closings will outperform last year despite a shaky start.Single Family permits (future supply) are up 4.6% year-to-date and multi-family permits are up 6.4%,reaching a level not seen since 2007. Single family home sales are up 5.7%, but new townhome and condo sales are down a whopping 30%, which is surprising. Resale condos and townhomes have increased in sales volume this year, so the drop in sales for new construction despite an increase in permits indicates that much of the multi-family units constructed are not for individual sale but are for rent.
This is good news if you're planning to sell your condo because the majority of developments are not
competing for buyers. This is not good news if you're renting your condo nearby because that's an increase in competing units for renters. "Apartment style" private condo rental rates per square foot have grown less than 1% over the course of 3.5 years according to the Arizona Regional MLS records.
Commentary written by Tina Tamboer, Senior Housing Analyst with The Cromford Report
©2019 Cromford Associates LLC and Tamboer Consulting LLC
Below you will find the statistical breakdown and more for the Tempe area Real Estate Market Report November 2019 ( with prior month and year data).
View All Current & Past Phoenix & East Valley Real Estate Market Reports
Below is a snapshot of Tempe's Real Estate Market Statistics for October 2019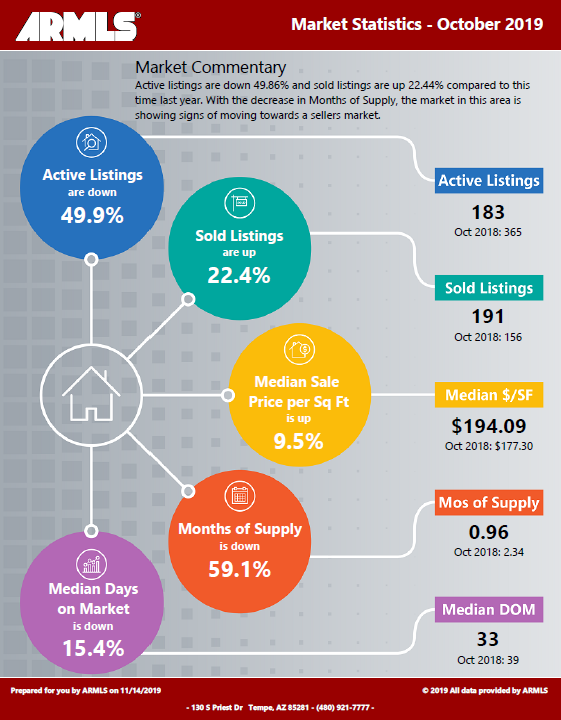 A look at Tempe's current Sales Price. Real Estate Market Report
In October, Tempe's Median Sales Price was $300,000 as compared to September's $294,000 a increase of 2%. Currently, the YTD average Median price in Tempe is $298,000  up .3% from last months $297,227. In Tempe, there is a great influence by ASU back to school purchasing townhomes for their children as investments. Because of the low inventory numbers, their having to pay a bit more for those properties.
If you are in the process of Buying or Selling a Home, Click on the highlighted link to see a number of  interesting articles.
What does this mean if you are a Seller or Buyer?
Real Estate Market Report
As the chart above shows, Inventory in Tempe continues to remain very low. The inventory moved up slightly from last month's .88 to .96 for October.  The Seller has a big advantage due to such a low number of Homes on the Market in the area. He were expecting an increase since October is a month were folks traditionally list their homes. This year the impact was negligible.
Buyers will have to look to make offers that are very competitive in price along with as few contingencies as possible. Buyers should be ready to react quickly when they see a home they want to place an offer on so to beat out the competition.
If you would like to see specific homes as they come on the Market, click here to get email updates.
Homes For Sale in Tempe AZ
Below are Homes that have come on the Market in the last 7 Days around the Median price range. Also below the pictures, you will see a Chart of all the Tempe homes by price and Type:
Below are all the Homes available in the city of Tempe by Dollar amount and type:
| | | | | |
| --- | --- | --- | --- | --- |
| Under $100,000 | Between $100,000-$200,000 | Between $200,000-$300,000 | Between $300,000-$400,000 | Between $400,000-$500,000 |
| Between $500,000-$600,000 | Between $600,000-$700,000 | Between $700,000-$800,000 | Between $800,000-$900,000 | Between $900,000-$1,000,000 |
| Over $1,000,000 | In Adult Communities | Foreclosed Homes | Short Sales | With Pools |
Below you will see the links for the other cities in the East Valley:
View All Current & Past Phoenix & East Valley Real Estate Market Reports
Contact the Shirley Coomer Group at Keller Williams Realty Sonoran Living
Call or Text: 602-770-0643 for more Real Estate Information.
Summary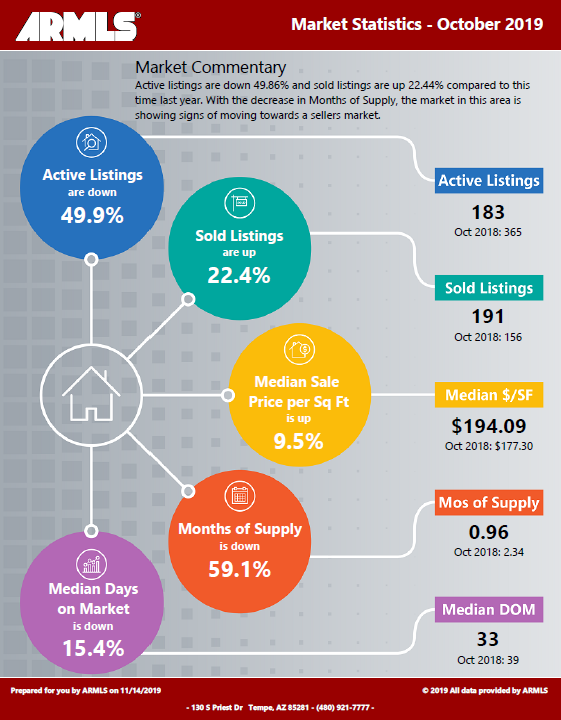 Article Name
Tempe Real Estate Market Report November 2019
Description
Real Estate Market Report Shows the trends in Tempe AZ. Info is from the Multiple Listing Service & is useful for buyers /sellers..
Author
Publisher Name
Publisher Logo