Before we get into the Tempe Real Estate Market Report for November 2021, I have a commentary written by Tina Tamboer.  Tina is the Senior Housing Analyst with the Cromford report. She was nice enough to let us use her summary of the Greater Phoenix Metro area as a backdrop for what is happening in Tempe this month. Here is her commentary…
?️  The Greater Phoenix Metro Summary Analysis Real Estate Market Report
2022 Housing Predictions: Who to Believe?
Median Price Currently Rising 1% per Month on Average
?    For Buyers:
'Tis the season for 2022 projections in the housing market and, as expected, there are conflicting opinions among national housing analysts. Zillow and Goldman Sachs predict home values will rise nationally 14-16% between now and the end of 2022. CoreLogic released their prediction that home values will only rise 1.9% next year, citing a concern with rising interest rates. Then there's Zelman and Associates warning that investors are over-building and over-buying as household formation and population growth are weak, challenging the notion of a housing shortage.
Who do we believe? Zillow recently pulled out of the business of buying homes after realizing their algorithm was failing to accurately value homes under current market conditions. CoreLogic's prediction last year, that home values would drop 6.6% by May 2021, was a gross misfire as values soared instead. While Zelman is waiving a caution flag, the organization is stopping short of issuing a price prediction for next year.
In the meantime, prices in Greater Phoenix continue to rise. Prior to 2020, the median had been rising at 0.6%-0.8% per month on average (7-10% per year) which was in response to a milder seller market. In the 2020-2021 extreme seller market, that average rose to 1.3% per month in 2020 and 2.3% per month so far in 2021, with a peak in the Spring between 3-5% and 1% per month average since June.
Many local analysts agree the past rate of increase is indeed unsustainable. The payment for a 1,500-2,000 sqft home has risen 33%, or $500/month since last November, and the median rent on the MLS for the same sized home increased $372/month. At the rate prices have been increasing for the past 2 years, returning to a mere 7-10% annually would be considered a massive relief for buyers.
?    For Sellers:
While the caution flags are waving for a softer housing market next year, there are a number of positive indicators in Greater Phoenix that may keep our market appreciating, albeit slower. While interest rates, affordability, sluggish population growth and household formation are valid reasons for concern, here are a few counter-indicators to consider:
Lending practices have loosened up with the new $625,000 loan limit and more consideration of self-employed borrowers
Arizona is ranked in the top 10 states for population growth and household formation over the past decade due primarily to domestic migration
Per the Arizona Department of Economic Opportunity's October Employment Report:

Jobs and the labor force have completely recovered from last year's pandemic losses
Unemployment claims have fallen to pre-pandemic levels
W-2 Incomes have continued to rise and are up 3.4% YOY
While the market is expected to downshift sometime next year, the local economy and current supply and demand indicators for Greater Phoenix still point to strong price appreciation for at least 3-6 months.
Commentary written by Tina Tamboer, Senior Housing Analyst with The Cromford Report
©2021 Cromford Associates LLC and Tamboer Consulting LLC
Below you will find the statistical breakdown and more for the Tempe area Real Estate Market Report October 2021.
View All Current & Past Phoenix & East Valley Real Estate Market Reports
  ?   Below is a snapshot of Tempe's Real Estate Market Statistics for October 2021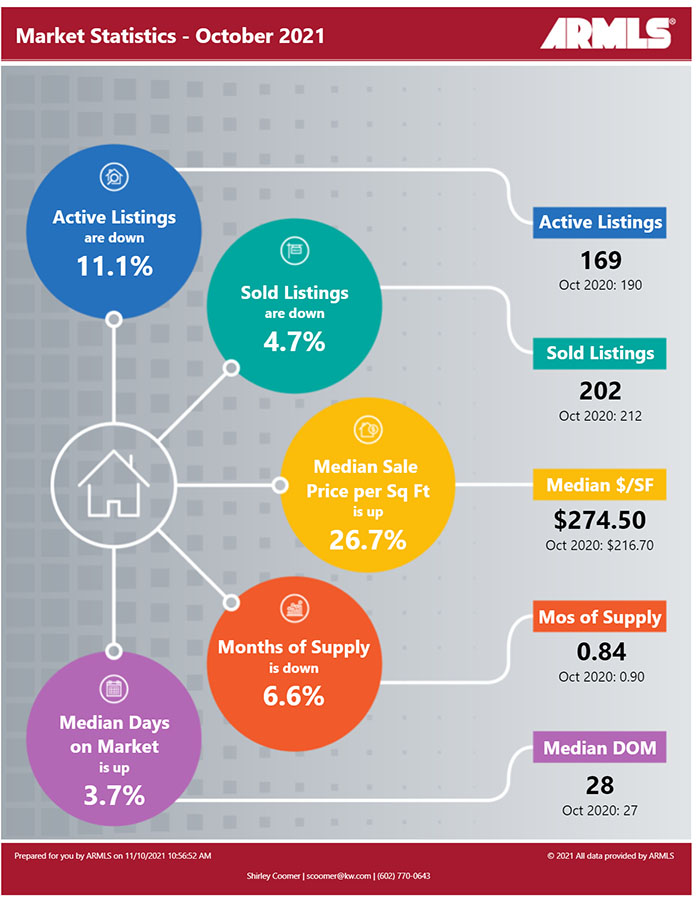 ?️     What are the Average Temperatures in Phoenix?
| Month | Low | High |
| --- | --- | --- |
| Jan | 43.4°F | 65.0°F |
| Feb | 47.0°F | 69.4°F |
| Mar | 51.1°F | 74.3°F |
| Apr | 57.5°F | 83.0°F |
| May | 66.3°F | 91.9°F |
| Jun | 75.2°F | 102.0°F |
| Jul | 81.4°F | 104.2°F |
| Aug | 80.4°F | 102.4°F |
| Sept | 74.5°F | 97.4°F |
| Oct | 62.9°F | 86.4°F |
| Nov | 50.0°F | 73.3°F |
| Dec | 43.5°F | 65.0°F |
Phoenix's coldest month is January when the average temperature overnight is 43.4°F. In July, the warmest month, the average day time temperature rises to 104.2°F. If you would like to see specific homes as they come on the market, click here to get email updates.
?   A look at Tempe's current Sales Price. Real Estate Market Report for November 2021
In October, Tempe's Median Sales Price was $444,600 up from last month's $421,000 and the prior months' $427,000, $421,580 and $415,000. As inventory levels remain at unheard of low levels, there has been continued pressure on the sales price as folks need to bid above the listing price to be the winning bid on the house.
If you are in the process of Buying or Selling a Home, Click on the highlighted link to see a number of interesting articles.
❓    What does this mean if you are a Buyer or a Seller?
Real Estate Market Report
As the chart above shows, the Phoenix housing market Inventory remains at historic low levels. Buyers should be prepared to jump on any listing that fits their needs. With inventory at these lows, make sure you make your offer as clean as possible (no contingencies). Since competition in the market remains high, you may want to consider offering over list price if the property value justifies it.
Sellers should expect multiple offers due to this low inventory level. We are seeing many more multiple offers as inventory drops. Know the market value of your home. When you start getting offers above list price and potential market price, be cognizant of a potential appraisal issue or look for offers with appraisal waivers/contingencies.
If you would like to see specific homes as they come on the market, click here to get email updates.
?️   What is the annual rainfall in Phoenix?
| Month | Precipitation |
| --- | --- |
| Jan | 0.83in. |
| Feb | 0.77in. |
| Mar | 1.07in. |
| Apr | 0.25in. |
| May | 0.16in. |
| Jun | 0.09in. |
| Jul | 0.99in. |
| Aug | 0.94in. |
| Sept | 0.75in. |
| Oct | 0.79in. |
| Nov | 0.73in. |
| Dec | 0.92in. |
The driest month in Phoenix is June with 0.09 inches of precipitation, and with 1.07 inches March is the wettest month.  
?️  Homes For Sale in Tempe AZ
Below are Homes that have come on the market in the last 7 Days around the Median price range. Also below the pictures, you will see a Chart of all the Tempe homes by price and Type: Below are all the homes available in the city of Tempe by Dollar amount and type:
| | | | | |
| --- | --- | --- | --- | --- |
| Under $100,000 | Between $100,000-$200,000 | Between $200,000-$300,000 | Between $300,000-$400,000 | Between $400,000-$500,000 |
| Between $500,000-$600,000 | Between $600,000-$700,000 | Between $700,000-$800,000 | Between $800,000-$900,000 | Between $900,000-$1,000,000 |
| Over $1,000,000 | In Adult Communities | Foreclosed Homes | Short Sales | With Pools |
?  Below you will see the links for the other cities in the East Valley:
View All Current & Past Phoenix & East Valley Real Estate Market Reports
Contact the Shirley Coomer Group at Keller Williams Realty Sonoran Living
Call or Text: 602-770-0643 for more Real Estate Information.
Summary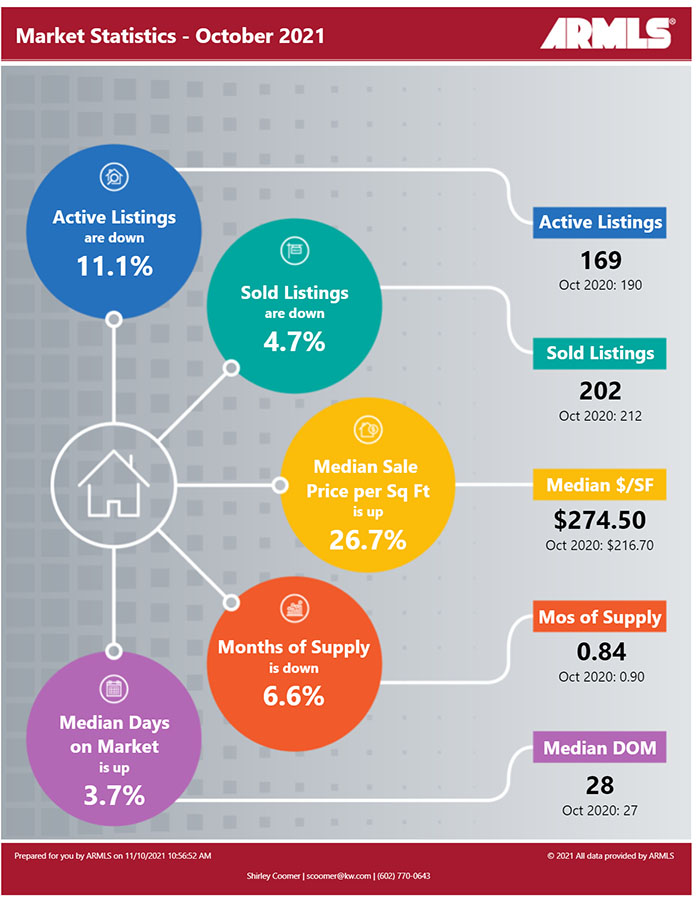 Article Name
Tempe Real Estate Market Report November 2021
Description
Tempe Real Estate Market Report November 2021 What buyers or sellers should know in the current market. Excerpts from the Cromford report
Author
Publisher Name
Publisher Logo