Before we get into the Tempe Real Estate Market Report October 2019, I have a commentary written by Tina Tamboer. She is the Senior Housing Analyst with the Cromford report. She was nice enough to let us use her summary of the Greater Phoenix Metro area as a backdrop for what is happening in Chandler this month. Here is her commentary…….
The Greater Phoenix Metro Summary Analysis Real Estate Market Report
Asking Prices up 9% Over Last Year, but are Buyers Paying It? These Homes have Appreciated the Most since 2000
For Buyers:
The news media is filled with short-term predictions regarding the economy and how it will, or will not, affect real estate prices. It's understandable for buyers to want their home to appreciate in value after they purchase, who doesn't?  However, there is far too much attention paid to short-term influences and fluctuations these days and not enough attention paid to the long view. Real estate is a long-term investment for many people.
Despite the euphoria of 2005-2007 and the nightmare of 2008-2011, on average homes are selling 81.6% higher today than they were in the year 2000. That's an average appreciation rate of 4.3% per year over the course of 19 years. Smaller homes appreciated the most over time while larger homes appreciated the least. Homes under 1,000sf have appreciated 122% since 2000, an average of 6.4% per year. Those between 1,000-2,000sf appreciated 106%, an average of 5.6% per year. 2,000-3,000sf appreciated 68% at 3.6% per year. 3,000-4,  appreciated 49% at 2.6% per year and homes over 4,000sf appreciated 11% at 0.6% per year.
For Sellers:
Average asking prices per square foot are up 9% over this time last year and they're continuing to rise. However, not one individual price range has risen 9% or more; confusing, right? That's because the sharp increase in the average has more to do with a growing market share of luxury active listings over $500K as inventory has plummeted everywhere else. The highest increase is within $200K-$250K, where sellers are asking 5.6% more than they were last year.
That's followed by listings over $1M where they're asking 4.2% more and $500K-$1M at 4.0%. All other price ranges are just 1-3% higher. But are buyers paying? Actually, many of them are! In the $200K-$250K range, the average sales price per square foot is still 0.8% higher than the average list price; and between $250-$300K the average sales price is 6.8% higher than the average list per square foot. Things change over $500K. Between $500K-$1M there's a -6.3% gap between asking price and sales price and over $1M the average sales price is -15.1% below the average asking price.
The commentary was written by Tina Tamboer, Senior Housing Analyst with The Cromford Report ©2019 Cromford Associates LLC and Tamboer Consulting LLC
Below you will find the statistical breakdown and more for the Tempe area Real Estate Market Report October 2019 ( with prior MO and yr data).
View All Current & Past Phoenix & East Valley Real Estate Market Reports
Below is a snapshot of Tempe's Real Estate Market Statistics for September 2019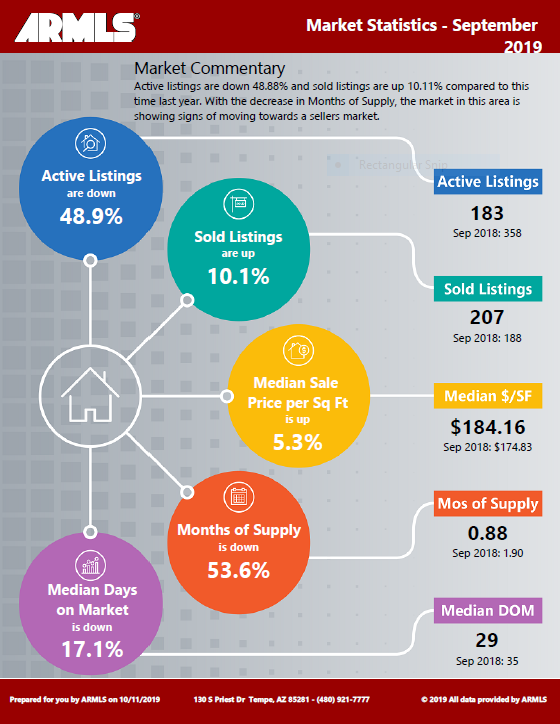 A look at Tempe's current Sales Price. Real Estate Market Report
In September, Tempe's Median Sales Price was $294,000 as compared to August's $303,900 a decrease of 3.2%. Currently, the YTD average Median price in Tempe is $297,227 down .4% from last months $298,500. In Tempe, there is a great influence by ASU back to school purchasing townhomes for their children as investments in the under $300,000 price range which brought down the median price.
If you are in the process of Buying or Selling a Home, Click on the highlighted link to see a number of interesting articles.
What does this mean if you are a Seller or a Buyer for the Real Estate Market Report
Real Estate Market Report
As the chart above shows, Inventory in Tempe continues to drop. We had a 6.39% decrease down to .88 months of inventory.  The Seller has a big advantage due to such a low number of Homes on the Market in the area. However, with April and October being the 2 months where most homes come to market, we would expect inventory levels to rise.
Buyers will have to look to make offers that are very competitive in price along with as few contingencies as possible. Buyers should be ready to react quickly when they see a home they want to place an offer on so to beat out the competition.
If you would like to see specific homes as they come on the market, click here to get email updates.
Homes For Sale in Tempe AZ
Below are Homes that have come on the Market in the last 7 Days around the Median price range. Also below the pictures, you will see a Chart of all the Tempe homes by price and Type:
Below are all the Homes available in the city of  Tempe by Dollar amount and type:
| | | | | |
| --- | --- | --- | --- | --- |
| Under $100,000 | Between $100,000-$200,000 | Between $200,000-$300,000 | Between $300,000-$400,000 | Between $400,000-$500,000 |
| Between $500,000-$600,000 | Between $600,000-$700,000 | Between $700,000-$800,000 | Between $800,000-$900,000 | Between $900,000-$1,000,000 |
| Over $1,000,000 | In Adult Communities | Foreclosed Homes | Short Sales | With Pools |
Below you will see the links for the other cities in the East Valley:
View All Current & Past Phoenix & East Valley Real Estate Market Reports
Contact the Shirley Coomer Group at Keller Williams Realty Sonoran Living
Call or Text: 602-770-0643 for more Real Estate Information.
Summary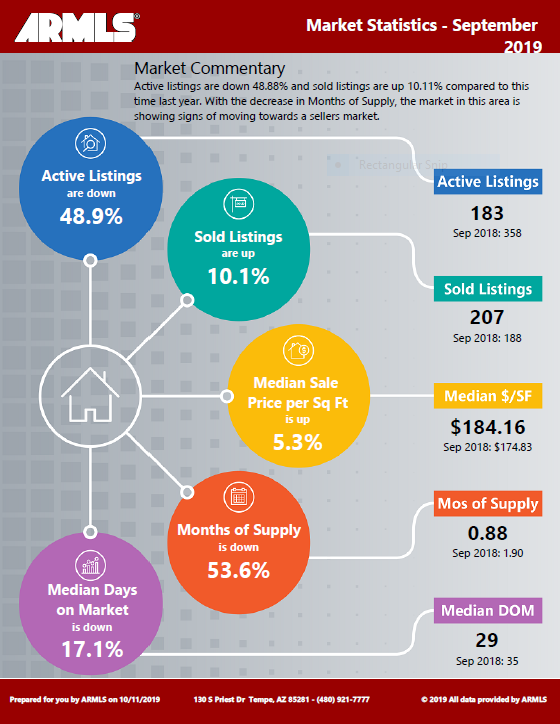 Article Name
Tempe Real Estate Market Report October 2019
Description
Real Estate Market Report Shows the trends in Tempe AZ. Info is from the Multiple Listing Service & is useful for buyers /sellers..
Author
Publisher Name
Publisher Logo