Gilbert is a town in Maricopa County, Arizona, and it is the 6th largest municipality in the state. So, you may ask, what are some things to do in Gilbert, Az?  It is also the 5th largest in the Phoenix metro area. Gilbert will celebrate its 100th birthday in 2020.
The population as of 2017 was 242,354 and it continues to grow!  Gilbert was a prime farming community, fueled by the construction of the Roosevelt Dam and the Eastern and Consolidated Canals in 1911. 
The Town of  Gilbert owes its name to William "Bobby" Gilbert,  who sold a right-of-way through his land to the Phoenix and Eastern Railroad Company in 1902.   So, you may ask, where is Gilbert, Arizona.
Here are some things to consider:
Top Golf
Location  1689 S. San Tan Village Pkwy, Gilbert, AZ 85295  (480) 240-1282
About:  This is a sports entertainment complex with many activities under one roof.  This has an inclusive, high-tech golf game for everyone will enjoy. Here you will find a great drink and food menu sure to please everyone.  This is a climate-controlled building, making it a great place to visit during the hot Gilbert summers!  Here you will find climate-controlled hitting bays and music, with something for everyone of all ages.
The Main Event
Location:   1735 S Santan Village Pkwy, Gilbert, AZ 85295   (480) 462-2200
Main Event has more than just 22 lanes of state-of-the-art bowling, laser tag, gravity ropes, and over 100 games. It's also one of the best venues for birthday parties, group events, company holiday parties, and even team building.
☂️ What is the Average Rainfall for the Phoenix area, including Gilbert, Az?
| Month | Precipitation |
| --- | --- |
| Jan | 0.83in. |
| Feb | 0.77in. |
| Mar | 1.07in. |
| Apr | 0.25in. |
| May | 0.16in. |
| Jun | 0.09in. |
| Jul | 0.99in. |
| Aug | 0.94in. |
| Sept | 0.75in. |
| Oct | 0.79in. |
| Nov | 0.73in. |
| Dec | 0.92in. |
The driest month in Phoenix is June with 0.09 inches of precipitation, and with 1.07 inches March is the wettest month.
Riparian Preserve at Water Ranch
Location2757 E Guadalupe Rd, Gilbert, AZ 85234

This is a lake located in Gilbert.  The preserve was created by the town of Gilbert in 1999 to combine water resources and wildlife habitat,  Also it has educational programs, and recreational opportunities at the five-acre lake. The Riparian Preserve at Water Ranch offers a unique opportunity for learning and education of visitors of all ages
Gilbert Historical Museum
Location:  10 S Gilbert Rd, Gilbert, AZ 85296
The Gilbert Historical Museum, located in what was once an elementary school  The school was built in 1913.  This is the only building in Gilbert to be on the National Register of Historic places!  While strolling thought the museum or the grounds, you will get a sense of the early settlers in Gilbert.  This town was once referred to as the.  Here you will see clothes and other household items used by early settlers.  You will see exhibits on farming, school, and community as well as a wonderful military exhibit.
This community museum is available to the community for various events such as weddings, family reunions, and other gatherings.  The pricing is very affordable.
The Hale Centre Theatre
Location: 50 W Page Ave, Gilbert, Az 85233
This 350 seat theater was built in 2003.  You will enjoy this theater in the round setting.  This theater features family friend performances.  To check out the current and upcoming performances CLICK HERE.  This theater presents many performances and shows from both Broadway and Off-Broadway, Visitors can also see interactive theater-based educational programs.
Gilbert is also known for many restaurants.  There are several that have been featured on FoodNetwork's Diners, Drive-ins, and Dives!  These to date include:
?️ What are the Average Temperatures in the Phoenix Metro area including Gilbert, Az?
| Month | Low | High |
| --- | --- | --- |
| Jan | 43.4°F | 65.0°F |
| Feb | 47.0°F | 69.4°F |
| Mar | 51.1°F | 74.3°F |
| Apr | 57.5°F | 83.0°F |
| May | 66.3°F | 91.9°F |
| Jun | 75.2°F | 102.0°F |
| Jul | 81.4°F | 104.2°F |
| Aug | 80.4°F | 102.4°F |
| Sept | 74.5°F | 97.4°F |
| Oct | 62.9°F | 86.4°F |
| Nov | 50.0°F | 73.3°F |
| Dec | 43.5°F | 65.0°F |
Phoenix's coldest month is January when the average temperature overnight is 43.4°F. In July, the warmest month, the average day time temperature rises to 104.2°F.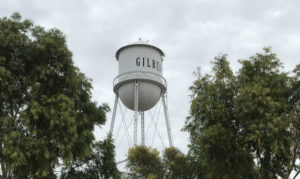 Joe's Farm Grill
3000 E Ray Rd Gilbert, AZ (480) 563-4745
Joe's is known for its fresh farm food.  Much of the food served is sourced locally.
Sal's Gilbert Pizza
1150 S Gilbert Rd   # 116, Gilbert, Az 85296
Sal's is known for its New York-style pizza.  The family-friendly atmosphere portrays a touch of old-world Sicily. Also, Sal's is known for its fresh ingredients and homemade Italian entrees.
So whether you go to Gilbert for Top Golf or a visit to a theater or museum.  Wonderful restaurants are easy to find.  Also, downtown Gilbert Az continues to add new restaurants all the time!  The revitalization of town Gilbert has seen a huge increase in bars and restaurants.  This downtown area is a go-to place for young and older residences.  It is also a go-to place for people in adjacent communities.

People are moving into Gilbert every day, based on the low cost of living, public schools & job opportunities.  Gilbert is close enough for the amenities in Phoenix, such as Sky Harbor airport, football, baseball, hockey, and basketball stadiums. Gilbert is close to the recreational areas of
Who lives in Gilbert?   The Median household income for Gilbert is $87,566.
Top employes in Gilbert include GoDaddy, Banner Health, Deloitte, Morgan Stanley, Merrill Lynch, Northrop Grumman, to name a few.
Additionally, there continue to be several new build communities springing up in what was once vast farms and fields. This is a very diversified community that continues to attract newcomers daily.
Here is Information for Utilities in Gilbert, Az
New Gilbert Regional Park
New Gilbert Regional Park – Phase 1 Opens Saturday – September 22, 2019
3005 E. Queen Creek Road, Gilbert, Arizona
This new park, when completed will cover 272 acres in Gilbert, making it the largest park in the town of Gilbert.  While construction on the park started in the fall of 2018, this park has been in the planning stages for five years and will be completed in phases.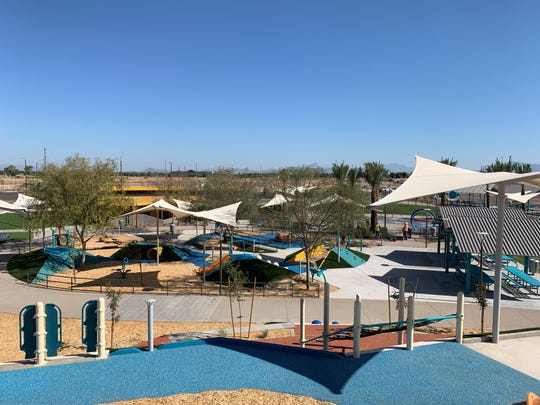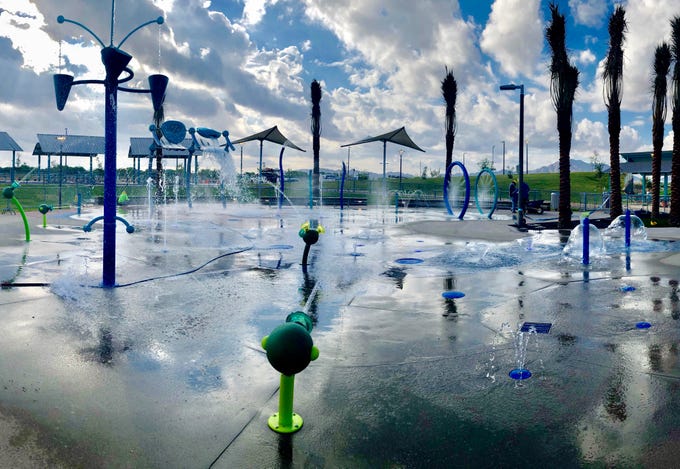 What is in Phase 1?  The First 30 acres:
This first phase includes:
Two playgrounds
A splash pad
10  Ramadas with lights and picnic tables
Restrooms
A lot of parking
The Mountain play structure has three levels, a zipline, and swings that overlook the rest of the park and mountains in the background. The playground is modeled after Shoots and Ladders and offers many different paths for play.
?️  What time zone is Gilbert, Arizona Located in?
The Town of Gilbert, Arizona is currently in the Mountain Standard Time.  Most of Arizona (Including Gilbert) do not change their clocks in the spring and fall like the rest of the county.
What is planned for the next phase of the park?
The work on the next phase will begin immediately with a planned opening next summer – 2020.
This 24-acre expansion is planned to include:
A 7-acre lake
A performance pavilion/amphitheater for concerts and festivals
A 10-acre event lawn
An area for food trucks to line up and serve park-goers
10 pickleball courts
Six tennis courts
Two basketball courts
Six sand volleyball courts
What projected for the 3rd Phase?
The city of Gilbert is proposing a public water park – already named the Strand @ Gilbert.  This would be the first Gilbert water park.  The proposed Strand@Gilbert would take up 25 acres at the Regional Park.  proposed plans include a wake park, surf lagoon, inflatable water park, sandy beach, and even room to go kayaking and canoeing!.  Also planed are restaurants.  When you play hard you get hungry!!!
The vision for the Gilbert Park may also include dog parks, trails, athletic fields, and other recreation areas.  Stay tuned to see how this park unfolds!
To see all the homes listed for sale in Gilbert:
Contact the Shirley Coomer Group at Keller Williams Realty Sonoran Living

Call or Text: 602-770-0643 for more Real Estate Information.