When you are ready to sell your house, you may consider burying a St. Joseph Statue and Other Selling Superstitions.  Have you heard about this?  Some sellers want all the help they can get.  Additionally, not only do they want an effective selling agent, but they may also reach beyond this world!
Therefore, you may consider buying a St Joseph Statue, as you want all the help you can get!   Additionally, selling your home depends on many things, including hiring the right Real Estate agent, pricing, house condition, and overall market conditions.  Additionally, some sellers want to find ways to help along the process.
For many years, sellers have tried unconventional ways to help along the selling process. And below are several ideas for anyone who decides to "help" along the home selling process!
?  Why Bury A St. Joseph Statue?
You may also be interested in learning about Seller Closing Costs in Phoenix.
One superstitious tack many sellers swear by involves burying a statue of St. Joseph in your front yard, near your for sale sign.  Also, tradition has it that the statue is buried upside down.  Also, once sold, homeowners should then dig up the statue and take it to their new home.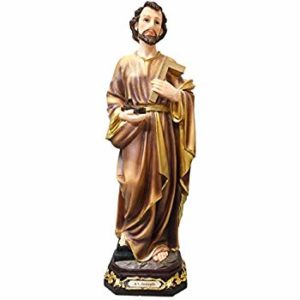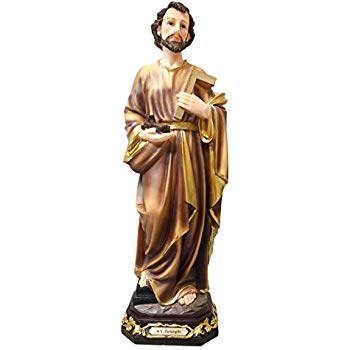 Additionally, Place the statue on a shelf in a place of honor.
What If I Live in A Condo?
If you live in a condo and do not have any yard space of your own, consider burning the St. Joseph statue in a flowerpot on your patio or balcony.
?  The St. Joseph Prayer to Sell a House.
O, Saint Joseph, you who taught our Lord the carpenter's trade, and saw to it that he was always properly housed, hear my earnest plea. I want you to help me now as you helped your foster-child Jesus, and as you have helped many others in the matter of housing.
✔️  Check out the St Joseph Home Sales Kit Instructions;
❓  Who was St. Joseph?
We see St. Joseph in the Nativity scene at Christmas.  Also, he stands there with his wife, Mary, and the new baby. Additionally,  St. Joseph is the patron saint of families.  He is also recognized at the patron saint of working people and carpenters.  Also, he generally protects the average working person and home sellers as well.
To get your own St. Joseph statue, click on the link below to see all your available choices:
Click here to see all the St. Joseph options are available.
As an Amazon Associate, I earn from qualifying purchases
??  Use Lucky #7 in Your Sales Price
Since the time of the Pythagoreans, seven has been thought to be the perfect number.  Also, for many years sellers have been incorporating the number seven in their house prices.
?  Scatter Coins Like They Do in the Philippines
Some superstitious folks in the Philippines believe that scattering coins around the living room will invite financial prosperity.  These folks believe scattering the coins will attract the right buyer which will be financially beneficial to them.
??‍?‍??  West African Tradition
In West Africa, there is a belief that your housework should be done in the morning. Therefore, if someone is cleaning up at night, you could sweep away your good fortune.
All sellers want their home to sell quickly and for the most amount of money.  Having a great real estate agent will make sure your home is marketed to the fullest is helpful. Additionally, the right agent will be sure your home has professional pictures and effectively staged.  Also, while an effective strategy will get your house sold, a little "divine" intervention will not hurt!
?️  St Joseph Miracle Prayer for Home Buyers
While many home sellers turn to St Joseph and the burying of a St. Joseph statue to sell their home, Many buyers are also turning to St. Joseph.
If you are a believer, here is a prayer you may want to try this miracle prayer to sell a house:
Glorious St. Joseph, foster-father and protector of Jesus Christ! To you do I raise my heart and hands to implore your powerful intercession. Please obtain for me from the kind Heart of Jesus the help and graces necessary for my spiritual and temporal welfare. I ask particularly for the grace of a happy death, and the special favor I now implore to help us find a home.
Guardian of the Word Incarnate, I feel animated with confidence that your prayers in my behalf will be graciously heard before the throne of God.  O glorious St. Joseph, through the love you bear to Jesus Christ, and for the glory of His name,
??St Joseph Miracle Prayer or the Right Agent?
There are many beliefs and superstitions buyers and sellers use for home sales. Also, it is always a good idea to have an experienced real estate agent working on your behalf.   Additionally, you need someone familiar with the area you buying or selling in.  There are three key negotiation points in a home sale.
First, is getting the initial purchase offer accepted.  Also, this offer will consist of a sale price, possible closing cost assistance, a date for the sale, and other items, perhaps including or excluding certain appliances, a home warranty, the title company, etc.
The next key negotiation is when a home inspection has been done on the property.  Buyers will often ask the seller to make repairs.  These repairs are frequently negotiated and can lead to the seller making repairs, providing a buyer credit at closing, or a buyer walking away.
If you are selling your house you may also be interested in learning about Things Buyers Really Want to See When Viewing Your House.
What to do with the Statue After the Sale?
But wait – there is a catch! You must dig up the statue once the house sells. Be sure to take it to your new home and keep it in a place of honor.
?  Not All Agents Are Great Negotiators
The last key negotiation is a home appraisal.  A buyer getting a home loan will find their lender will ask for a professional appraisal company completing an appraisal.  I recommend even cash buyers have an appraisal completed on their pending sale.  Should the property not appraise at the contract price, again negotiations start again.
The seller can cut the sales price, the buyer can agree to pay over appraised value and bring additional funds to closing.  The buyer and seller may meet somewhere in the middle.  The last option is for the buyer to walk away if the seller does not agree to cut the price.  The buyer would walk away, getting all earnest money returned.
The buyer will be out what they paid for the home inspection and the appraisal.  Working with an experienced real estate agent who has excellent communication and negotiation skills will ensure your best interests are met.
Selling A Home?
If you have a house you would like help selling, anywhere in the US (and worldwide) contact Shirley Coomer to speak with a great listing agent. 602-770-0643
Sellers need to expect a buyer will get a home inspection.  Useful information for home sellers when it comes to a Home Inspection.
Phoenix Homes on the Market in the last 7 days  $250,000 – $350,000
Contact the Shirley Coomer Group at Keller Williams Realty Sonoran Living

Call or Text: 602-770-0643 for more Real Estate Information.
Summary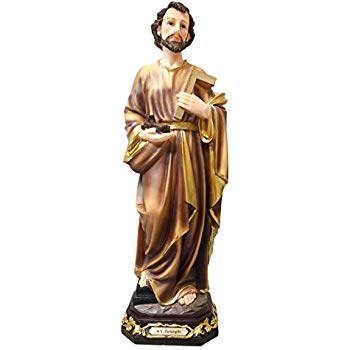 Article Name
Burying a St. Joseph and Other Selling Superstitions
Description
Burying a St. Joseph and Other Selling Superstitions to help get your house sold. by burying the statue st-joseph-selling-superstitions
Author
Shirley Coomer at Keller Williams Realty
Publisher Name
Shirley Coomer at Mountain Park Ranch Real Estate
Publisher Logo