Before we get into the Gilbert Real Estate Market Report in January 2020, I have a commentary written by Tina Tamboer.  Tina is the Senior Housing Analyst with the Cromford report. She was nice enough to let us use her summary of the Greater Phoenix Metro area as a backdrop for what is happening in Gilbert this month. Here is her commentary…..
The Greater Phoenix Metro Summary Analysis Real Estate Market Report
Active Supply is Down 32%
Median Sale Price up 11% and Expected to Rise
For Buyers:
The urgency for buyers cannot be stressed enough; real estate prices are not projected to decline in the Greater Phoenix area in 2020. There isn't one measure from any angle that supports that theory. Not only will they not decline, they will not stop rising this year at the current levels of supply and demand.
On January 9th, active supply was counted at just over 12,000 listings for all of Greater Phoenix. This is down 32% from this time last year and excruciatingly low. To put it in perspective, a "normal" level of inventory should be at least 28,000 – 30,000 active listings in the MLS for a metropolis the size of Maricopa and Pinal County. The last time inventory was recorded this low was in 2005 at 9,000 listings with a population of 3.8M. Now Greater Phoenix has 4.8M people with less than 1% of existing housing available for sale. With monthly sales up 17% over last year, fueled by population growth, job growth, income growth and low interest rates in the area, sellers have few reasons to sell below market value. It's not logical to expect prices to soften in this environment.
Buyers who have been waiting for sales prices to decline before they purchase have nearly missed the boat. This is because while they were watching prices rise, the payments for those same homes declined for a year with declining mortgage rates. However, when mortgage rates stabilized 6 months ago, hovering around an average of 3.75%, payments started to creep up again.
In short, if someone wants to purchase a home and they have the means, then they should lock into one. They should expect competing offers, expect to lose some opportunities, and expect to do some upgrades. They should also expect to live in their new home for at least 5 years to build up enough equity to mitigate the risk of ups and downs in the future.
For Sellers:
This is an exciting time for those who need to sell. Anyone who owns property has probably been contacted multiple times by multiple means throughout the year by people wanting to buy their home. While sellers are under much less pressure to perform repairs and upgrades in order to sell their home, it doesn't mean that they will sell it as quickly or for as much as those that are move-in ready. But, it will sell in this market.
Those who are considering selling to an internet investor buyer (aka iBuyers who offer some up-front certainty and convenience in the selling process), should know that they still have negotiating power in the transaction and have the option to be represented by a Realtor if they choose.
Commentary written by Tina Tamboer, Senior Housing Analyst with The Cromford Report
©2020 Cromford Associates LLC and Tamboer Consulting LLC
Below you will find the statistical breakdown and more for the Gilbert area Real Estate Market Report December 2019 ( with prior MO and yr data).
View All Current & Past Phoenix & East Valley Real Estate Market Reports
Below is a snapshot of Gilbert's Real Estate Market Statistics for December 2019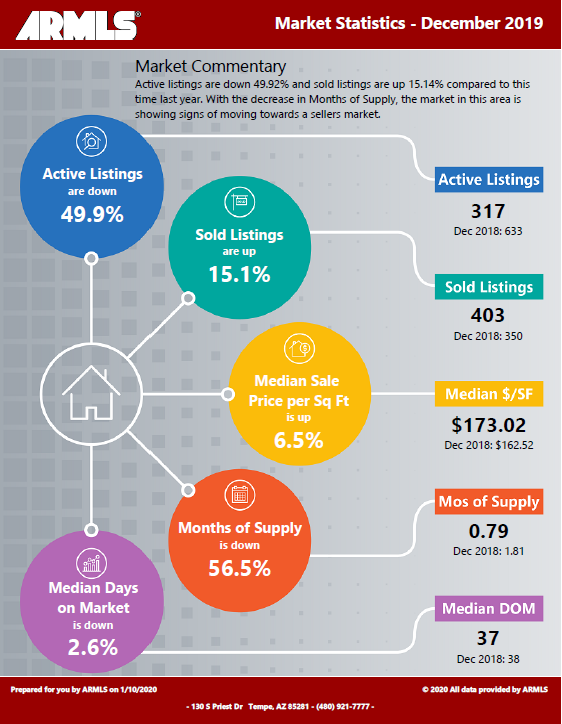 A look at Gilbert's current Sales Price. Real Estate Market Report
In December, Gilbert's Median Sales price was $354,900 flat to last months $355,000.  Currently the YTD average Median price in Gilbert is $345,000.  Increased slightly from  last month.  With the continued extremely low inventory of .79 months, prices are holding.
If you are in the process of Buying or Selling a Home, Click on the highlighted link to see a number of  interesting articles.
What does this mean if you are a Seller or Buyer?
Real Estate Market Report
As the chart above shows, Inventory in Gilbert remains extremely low at .79 months of supply ( as compared to last months 1.13 a 30% decrease WOW).  The Seller has the advantage due to such a low number of Homes on the Market.
Buyers will have to look to make offers that are very competitive in price along with as few contingencies as possible. Buyers should be ready to react quickly when they see a home they want to place an offer on so to beat out the competition. Have your agent talk with the seller's agent to see if there are any terms desired by the seller that you can put in your offer.
If you would like to see specific homes as they come on the Market, click here to get email updates.
Homes For Sale in Gilbert AZ
Below are Homes that have come on the Market in the last 7 Days around the Median price range. Also below the pictures, you will see a Chart of all the Gilbert homes by price and Type:
Below are all the Homes available in the city of Gilbert by Dollar amount and type:
| | | | | |
| --- | --- | --- | --- | --- |
| Under $100,000 | Between $100,000-$200,000 | Between $200,000-$300,000 | Between $300,000-$400,000 | Between $400,000-$500,000 |
| Between $500,000-$600,000 | Between $600,000-$700,000 | Between $700,000-$800,000 | Between $800,000-$900,000 | Between $900,000-$1,000,000 |
| Over $1,000,000 | In Adult Communities | Foreclosed Homes | Short Sales | With Pools |
Below you will see the links for the other cities in the East Valley:
View All Current & Past Phoenix & East Valley Real Estate Market Reports
Contact the Shirley Coomer Group at Keller Williams Realty Sonoran Living
Call or Text: 602-770-0643 for more Real Estate Information.
Summary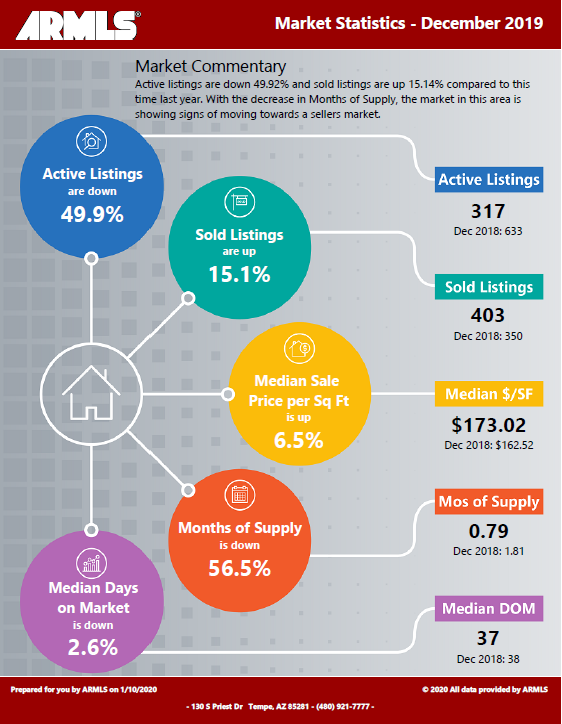 Article Name
Gilbert Real Estate Market Report January 2020
Description
Real Estate Market Report Shows the trends in Gilbert AZ. Info is from the Multiple Listing Service & is useful for buyers /sellers..
Author
Publisher Name
Publisher Logo