Before we get into the Gilbert Real Estate Market Report in May 2020, I have a commentary written by Tina Tamboer.  Tina is the Senior Housing Analyst with the Cromford report. She was nice enough to let us use her summary of the Greater Phoenix Metro area as a backdrop for what is happening in  Gilbert this month. Here is her commentary…..
The Greater Phoenix Metro Summary Analysis Real Estate Market Report
Pandemic Effect: Closed MLS Sales Down 31%
Look Who's Back: Weekly Contracts Up 40% in 4 Weeks
For Buyers:
Greater Phoenix contract activity dropped 39% over the course of 6 weeks between March and mid-April. The effects of those declines are now being reported over a month later as a 31% decline in closed sales. This isn't surprising, you can't close what was never opened. But that's already old news, what isn't getting reported yet is the 40% increase in accepted contracts over the past 4 weeks. This is key information for buyers right now, especially if they're on the fence waiting for the market to "crash". This 4-week increase in buyer demand will not be widely reported for 6 more weeks because these contracts still need to close.
One mistake approved buyers make is waiting for closing reports before acting. By the time a property closes escrow and a sales price is publicly recorded, the condition that the transaction was created under may have passed. The opportunity for buyers lies in knowing how many contracts are being accepted right now in their price point and area. They also need to know the average list price at a contract to gauge where they are this week compared to 10 weeks ago. This information can only be obtained through a REALTOR®.
More Food For Thought For Buyers
They'll discover a significant increase in contract activity across all price points in Greater Phoenix, but the average list price per square foot is only down on contracts written over $500K. All other price points below $500K are seeing the average list price per square foot either higher than or equivalent to where it was 10 weeks ago in February. This does not indicate an impending doom for home values.
Buyers hoping for cheap homes should not retreat in despair, however. Mortgage rates have declined to an average of 3.26% according to Freddie Mac; last year at this time mortgage rates were 4.1%. So while the median sales price rose 8.9% over last year, the principal and interest payment on a $300K, 30-year, the fixed-rate mortgage went from $1,450/month to 1,307/month. That's down $143, a 10% decline over the course of a year. The biggest mistake buyers make is sitting around waiting for sale prices to decline while their potential mortgage payment plummets. Low mortgage rates are not something to ignore or take for granted as they can change quickly for better or worse.
For Sellers:
The increase in contract activity is great news for sellers. However, there are fewer cash buyers offering top dollar for homes in "as-is condition" compared to 10 weeks ago; meaning increased pressure on sellers to do repairs and offer concessions to normal buyers in order to sell their home for their desired price. This is reflected in the percentage of homes closing with seller-assisted closing costs, which increased from 18% to 25% over the past 4 weeks.
The market over $500K is recovering slower than the other price ranges after dropping 58% in weekly contracts due to travel restrictions and the stock market crash from late February through March. While contract activity rose 65% over the past 4 weeks, it's still down 30% from its peak 10 weeks ago. The irony is that one would expect a massive number of price reductions after such a dramatic drop in demand, but that was not the case. Instead, sellers over $500K simply picked up their ball and left the field. The highest percentage of canceled listings were seen in the luxury market, which reduced supply and mitigated the loss in demand. As a result, sales prices over $500K have remained stable thus far and are up just 0.9% from this time
last year.
Commentary written by Tina Tamboer, Senior Housing Analyst with The Cromford Report ©2020 Cromford Associates LLC and Tamboer Consulting LLC
Below you will find the statistical breakdown and more for the Gilbert area Real Estate Market Report April 2020.
View All Current & Past Phoenix & East Valley Real Estate Market Reports
Below is a snapshot of Gilbert's Real Estate Market Statistics for April 2020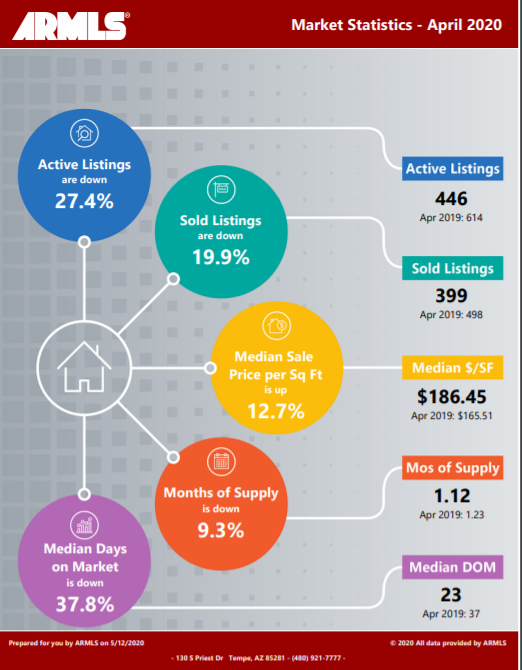 What are the Average Temperatures in the Phoenix Metro area?
| Month | Low | High |
| --- | --- | --- |
| Jan | 43.4°F | 65.0°F |
| Feb | 47.0°F | 69.4°F |
| Mar | 51.1°F | 74.3°F |
| Apr | 57.5°F | 83.0°F |
| May | 66.3°F | 91.9°F |
| Jun | 75.2°F | 102.0°F |
| Jul | 81.4°F | 104.2°F |
| Aug | 80.4°F | 102.4°F |
| Sept | 74.5°F | 97.4°F |
| Oct | 62.9°F | 86.4°F |
| Nov | 50.0°F | 73.3°F |
| Dec | 43.5°F | 65.0°F |
Phoenix's coldest month is January when the average temperature overnight is 43.4°F. In July, the warmest month, the average day time temperature rises to 104.2°F.
If you would like to see specific homes as they come on the market, click here to get email updates.
A look at Gilbert's current Sales Price. Real Estate Market Report
In April, Gilbert's Median Sales Price was $360,500 as compared to last months $377,250, a drop of 4.4%. We will continue to watch how the Virus effects sales price going forward. Based on Tina's comments most areas prices are holding. With limited inventory ( 1.12 months), Gilbert may have been affected by a sales mix issue.
If you are in the process of Buying or Selling a Home, Click on the highlighted link to see a number of interesting articles.
What does this mean if you are a Buyer or a Seller?
Real Estate Market Report
As the chart above shows, Inventory in Gilbert is at 1.12 months up from last month's .94. THis is a small drop compared to other Phoenix area markets. As Tina says above, I would expect inventory to stay low as well as prices to hold. Therefore, if you are a buyer, it still is a good time to buy with mortgage rates low and limited activity during the Pandemic.
Sellers should closely read Tina comments above. You should expect to have to make some level of concessions to maintain your sales price. The market under $500,000 seems to be maintaining which is not the case over $500K.
If you would like to see specific homes as they come on the market, click here to get email updates.
What is the annual rainfall in Phoenix?
Average Rainfall for Phoenix
| Month | Precipitation |
| --- | --- |
| Jan | 0.83in. |
| Feb | 0.77in. |
| Mar | 1.07in. |
| Apr | 0.25in. |
| May | 0.16in. |
| Jun | 0.09in. |
| Jul | 0.99in. |
| Aug | 0.94in. |
| Sept | 0.75in. |
| Oct | 0.79in. |
| Nov | 0.73in. |
| Dec | 0.92in. |
The driest month in Phoenix is June with 0.09 inches of precipitation, and with 1.07 inches March is the wettest month.
Homes For Sale in Gilbert AZ
Below are Homes that have come on the market in the last 7 Days around the Median price range. Also below the pictures, you will see a Chart of all the Gilbert homes by price and Type:
Below are all the homes available in the city of Gilbert by Dollar amount and type:
| | | | | |
| --- | --- | --- | --- | --- |
| Under $100,000 | Between $100,000-$200,000 | Between $200,000-$300,000 | Between $300,000-$400,000 | Between $400,000-$500,000 |
| Between $500,000-$600,000 | Between $600,000-$700,000 | Between $700,000-$800,000 | Between $800,000-$900,000 | Between $900,000-$1,000,000 |
| Over $1,000,000 | In Adult Communities | Foreclosed Homes | Short Sales | With Pools |
Below you will see the links for the other cities in the East Valley:
View All Current & Past Phoenix & East Valley Real Estate Market Reports
Contact the Shirley Coomer Group at Keller Williams Realty Sonoran Living
Call or Text: 602-770-0643 for more Real Estate Information.
Summary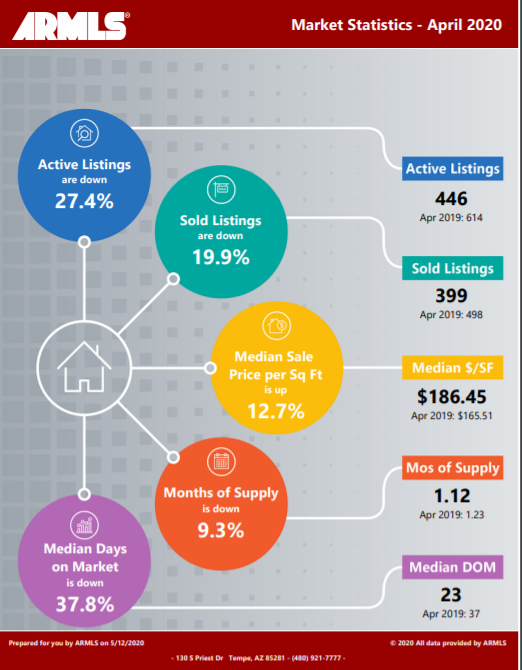 Article Name
Gilbert Real Estate Market Report May 2020
Description
Real Estate Market Report Shows the trends in Gilbert AZ. Info is from the Multiple Listing Service & is useful for buyers /sellers..
Author
Publisher Name
Publisher Logo