Welcome to Phoenix!  Here is information you will find helpful if you are moving to Phoenix, Arizona.
There are some fun facts about the Phoenix metro area including schools, recreation, major employers, sports, golf courses, and more. Feel free to browse around and check out the links to additional information.
?  Are You Moving to Phoenix?
According to the Census Bureau in April 2019, Maricopa County, where Phoenix is located, had more people moving in than any other county in the nation last year.  Also, this is the third year in a row Phoenix has been the leading country for folks moving in.
Additionally, according to the Arizona Republic,  "Maricopa County added 81,244 people between July 2017 and July 2018.
And that's up from 74,000 people during that same time period the year before.  Maricopa County's growth helped it keep up its rank as the fourth most populous county in the country with 4,410,824 residents."
So why this mass movement to Maricopa County?  The Phoenix economy has recovered nicely from the housing downturn.  Aso, major companies are moving to the Phoenix metro area.  Additionally, the weather in Phoenix is very desirable!
The summer heat can reach temperatures over 120 degrees in the summer.  However, the rest of the year is quite nice and highly desirable.
?  Living in Phoenix, Az.
Phoenix, Arizona, is in what the locals call the Valley of the Sun.  Also, it is surrounded by more than 20 communities including Scottsdale, Tempe, Gilbert, Mesa, Fountain Hills, Peoria, and Glendale.  Phoenix encompasses more than 500 square miles and it is bigger than Los Angeles. As the capital of Arizona, Phoenix is the flagship of the valley, driving business, entertainment, and education in the area.
Phoenix is easily accessed from Interstates 10 and 17, which intersect in the southern end of town. Phoenix's southern border meets the Gila River Indian Reservation. A bit more than ten miles to the east lie the Superstition Mountains. Additionally, these are located inside of Tonto National Forest, which blends into Coconino National Forest.
?️  Map of Phoenix, Az.
?  Facts about Phoenix Arizona, Az.
Residents of Phoenix live in the 602, 480 and 623  area codes.  Additionally, these are located in the Mountain Standard Time Zone.  Phoenix does not participate in daylight savings time. Phoenix covers 512 square miles and, is the largest state capital in America. The city had a population of over 4.5 million as of 2016. The city is expected to grow by another 1.5 million people in 2017.
Sonoran Desert
Situated in the Sonoran Desert, Phoenix rises to an elevation of 1,086 feet.  The area residents and visitors enjoy sunny weather with relatively low humidity.  The Phoenix metro area receives the most rain in March when typically a little over an inch falls.
Spring rainfall averages as low as .16″ in May. The driest month is June, with less than a tenth of an inch. The rest of the months average under an inch or precipitation. The area may experience rain during the Monsoon season each summer.
Winter in Phoenix has high temperatures that range from the mid-60s to lower 70s.  Also, lows ranging from the lower 40s to high 40s. Although these temperatures are normal for Phoenix, it is possible to see snow on rare occasions when weather patterns are right.
?  Spring in Phoenix
Spring in Phoenix is delightful with lows ranging from the low 50s to mid-60s and highs ranging from the mid-70s to the low 90s. Temperatures in the Fall are similar with lows ranging from the low 50s to the mid-70s and highs ranging from the lower 70s to upper 90s.
Summer lows range from the mid-70s to lower 80s, with highs averaging between 102 degrees to 104.2.  Winds are tame in Phoenix, with annual speeds averaging around 14.4 mph.  of course, this can change with a  summer Monsoon.
The  Phoenix metro area ranks high among the nation's top cities for the number of Four and Five Diamond restaurants.  There are also many Four and Five Star resorts.
?️  Phoenix Zip Code Map
You are moving to Phoenix.  Where do you start your home search?  The city is huge, you need to find someplace with great schools, close to work and shopping.  You ask friends or a new employer for suggestions.
Some may give you the name of a city or town, but some cities, such as Mesa, Az has 19 zip codes!  That is a huge area to narrow down.  However, ask for a zip code recommendation you have a narrower search!  For a zip code map of the Phoenix metro area
Click here to get a Zip Code map of Phoenix, Arizona
?  Driving Directions to Phoenix, Az.
When driving into Phoenix, there are a few highways you can take. If you are northeast of Phoenix, take Interstate 40 west to Flagstaff. From there, take Interstate 17 south to Phoenix.
From northwest of the city, take Interstate 40, driving east to Flagstaff, then south on Interstate 17. If you are far enough west that you pass Highway 60 south, you can use it to reach south Phoenix. Take Highway 74 to reach northern Phoenix.
From southwest of Phoenix, take Interstate 10 driving east. If you are south of Phoenix, access the city driving north on Interstate 10. Likewise, Highway 87 north to Highway 202 west, leads to Phoenix. Driving north on Highway 347 leads to Interstate 10 and southern Phoenix.
From the east, reach Phoenix driving south on Highway 87 to Highway 202  Driving west takes you through Mesa and Tempe and into southeastern Phoenix. Reach Phoenix taking Highway 84 south to Highway 60, head west to Interstate 10, and head north. Finally, you can head north on Highway 79 to Highway 60 and then to Interstate 10.
You May Also Be Interested This Report On Buying in a HOA community.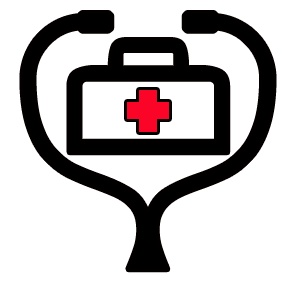 ?  10 Top Employers in Phoenix,  Az.
Phoenix is home to many businesses that fuel the economy with many well-paying jobs.  There is employment in both the public and the private sector.  Healthcare, government, education, and technology companies lead the top Phoenix metro area employers.  The top Ten  Phoenix-area employers are:
 The State of Arizona – just under 50,000 state employees. Various jobs throughout the area.
2.  Banner Health – Just under 40,000 employees.  Banner health care has eight locations valley-wide which include imaging centers and outpatient clinics.
3.  Wal-Mart – Just under 35,000 employees.  Employment locations include Wal-mart stores,  discount stores, neighborhood markets, Sam's Cubs, supercenters and distribution centers
4.  Kroger – Just under 17l,000.  Fry's grocery stores are a subsidiary of the Kroger Co. stores.  There is more than 100 stores valley wide and in area communities.  This is part of one of the largest grocery chains in the country.
5.  Arizona State University  (ASU)- Just under 16.000 employees.  ASU is one of the largest Universities in the country.  ASU has a campus in Tempe as well as downtown Phoenix and other Phoenix Metro area.
More Top Employers
6.  Wells Fargo – 15,071 employees.  This count for Wells Fargo includes employees in branches, business banking offices,  private client services, and operations areas.
7. City of Phoenix – 14,000 employees.  The city of Phoenix, as the 5th largest city in the United States, has a need for many employees.  They run various city offices and support services, such as fire and police services, city government, and more.
8. Maricopa County – 13,000 employees.  The city of Phoenix is in Maricopa County as well as many other metro cities.  This county covers 9,224 square miles and is 4th in population in the United States.
9. Intel Corporation – 11,300 employees .  Intel is the largest semiconductor company in the works.  There are two large research and manufacturing complexes in Chandler, Az.  many of the employees live in the Phoenix area.  An additional facility is currently under construction.
10. Honor Health – 10,600 employees. This large provider of health-related services employs staff in hospitals,  outpatient surgery centers.  Additionally, they support home health care services, outreach programs, and community education.
?  Things to do in Phoenix, Az.
The valley of the sun provides a variety of things to do year-round for local residents as well as visitors to the valley.
The Desert Botanical Gardens  – Over  600,000 visitors a year visit the quiet and peaceful garden to see over 50,000 desert plants.   This is a living museum, in the outdoors! Visitors are treated to year-round events and can visit as early as 7 AM and stay until 8 PM.
When you visit the gardens and take advantage of the 7 AM opening.  You can avoid the heat of the day and enjoy the morning doves and Roadrunners as they dart around the garden.
Throughout the year there are many events from music in the garden.  These include desert plant sales and at Christmas the  Las Noches De Las Luminarias
Visit the garden Thursdays and Saturdays May 24 through Sept. 2 and experience the Flashlight Tours to the desert at night.   Bring your own flashlights and enjoy the self-paced tour on the trails and see the night-blooming plants.  Experience the animal sounds and catch a glimpse of animals scampering across your light beam.
Phoenix Zoo
The Phoenix Zoo –    The Phoenix Zoo was started in 1962 and today has over 1,400 animals for visitors to see.  The zoo has 2.5 miles of walking trails to follow as you enjoy the variety of animal houses here.  
There are four main trails to wander through starting with the Arizona Trail which features animals from the southwest.  Next, you can wander down the Africa trail to see typical animals from Africa.
The Tropics Trail will lead you to animals typically found in the rainforests of the world.  And last not but not least is the Children's Trail where visitors can enjoy a petting zoo.
A favorite of local Phoenicians is the Zool Lights which starts in November and continues into January.  The zoo is decked out in thousands of lights and you will delight in n evening stroll through the park.  For more information on the Click here for more information on the Phoenix Zoo Lights.
?  More Things to Do in Phoenix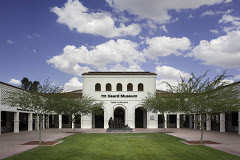 The Heard Museum – The Heard Museum, found in 1929, is filled with Arizona's rich Indian heritage and provides exhibits and education for those of all ages.
The Mission of the Heard Museum is "to be the world's preeminent museum for the presentation, interpretation, and advancement of American Indian art.
 Additionally, the Heard museum emphasizes its focus on the broader artistic and cultural themes."  The amazing museum hits the mark on all these mission objectives.  
If you want to see world-class exhibitions and enjoy American Indian art, this is the place to visit.  The museum provides education abound the American Indian culture and showcases many unique Indian artifacts
. See the many exhibits, enjoy a lunch of delightful freshly prepared salads or sandwiches.  Don't miss the entrees which feature American Indian and locally sourced all-natural ingredients.
Hike Camelback Mountain   One of the great advantages of living in the Phoenix metro area is the many hiking and biking opportunities throughout the valley.  One of the top attractions is Camelback Mountain, visible from all over the valley.  This centrally located mountain has an elevation of 2,704 feet.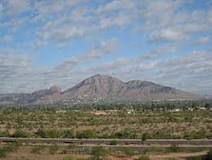 While hiking you will enjoy amazing views of the Phoenix area as well as the many desert plants, including the Saguaro Cactus, which is unique to the Sonoran Desert.  Also, in the spring you will see the beautiful Ocotillo and enjoy the  Palo Verde, Cholla, Barrel Cactus and the Creosote Bush.   With about 300 days of sunshine, almost any day is great for a hike.
?  Hotels in Phoenix, Az.
The Phoenix Metro area has hotels to suit many price ranges.  The Phoenix / Scottsdale areas are known for luxury hotels and spas.  There are hotels with amazing golf courses.  You will finds hotels convenient to the major sports facilities.  If you are coming to the valley to enjoy the wonderful warm winters and want to experience golfing, shopping and spas, you have many options. Here are just a few of the top-rated hotels and resorts.
JW Marriott Phoenix Desert Ridge Resort & Spa –   This is a great getaway for luxury resort accommodations.  You are sure to find something for everyone here!
Arizona Biltmore  – This historic hotel offers legendary service, spectacular accommodations for that special get-a-way!
Renaissance Phoenix Downtown Hotel – If you are looking for a 5-Star hotel in downtown Phoenix, look no further than the Renaissance hotel.  Close to the convention center and downtown sporting events.
The Arizona Grand Hotel at South Mountain – This is the perfect family getaway location.  The resort completed 13 Million renovations in 2017.  This all-suite hotel features highly-rated restaurants.  Who can pass up the Oasis Water Park with private cabanas, water slides, and the lazy river!  This is favorite of the locals during the summer!
For more information on accommodations in the Phoenix metro area CLICK HERE
⚕️  Medical Facilities in Phoenix, Az.
There are several Urgent Care and highly rated facilities throughout the valley. Phoenix has many award-winning hospitals, such as Phoenix Children's hospital, the world-renown Mayo Clinic, and the Barrow Neurological Institute to name just a few.  Local fire departments to provide the highest level of public safety service.  They protect lives and property through fire suppression, emergency medical and transportation services, disaster management, fire prevention, and public education and safety.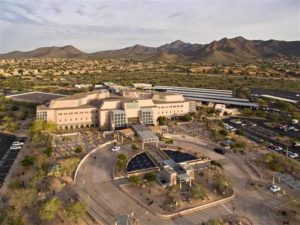 The Phoenix police department serves Phoenix and provides community-oriented law enforcement to protect life and property for the community.  Each city within the metro area provides its own police and community services.  All strive to keep the communities safe, regularly reach out, meeting with community members.
Top Phoenix Metro Medical facilities
Mayo Clinic – This world-class facility consistently ranks in the top medical facilities in the country.  The Mayo Clinic treats over a million patients a year, with many coming from out-of-state to get a second diagnosis or just make sure they are getting the benefits of a highly rated facility.
Barrows Neurological Institute  – Since opening in 1962, the Barrows Institute has been the premier destination in the world for neurology and neurosurgery.
Phoenix Children's Hospital –  Phoenix Children's Hospital is known for its Pediatric specialists and their medical specialties. Physicians and staff work together to meet the needs of all children through their world-class programs.
Banner University Medical Center Phoenix – This hospital is a general medical and surgical facility.   The US World and News highly rated this medical center in Geriatrics, Nephrology,  Urology.  Several areas were also noted as highly rated.
Banner Estrella Medical Center   – Banner Estrella Medical Center in Phoenix, Ariz. is nationally ranked in 1 adult specialty and rated high performing in 4 adult specialties and 9 procedures and conditions. It is a general medical and surgical facility. 
?  Phoenix Transportation
It is easy to travel to Phoenix.  The Phoenix Sky Harbor Airport is an international airport with many flights domestically and internationally, making flying to Phoenix very convenient. When you move to Phoenix, you will find several airlines use Phoenix as a "hub" city, which increases the number of daily flights into and out of the city.
The Phoenix east valley has the Phoenix-Mesa Gateway Airport.  From this smaller airport, you will find flights to selected smaller domestic cities. Many people like traveling through a smaller airport and enjoy the services into smaller cities, often not served by the major airlines.
Phoenix has a great metro bus system providing public bus transportation throughout the city of Phoenix and the adjoining communities. CLICK HERE for routes and schedules.  The Phoenix light rail was implemented a few years ago providing transportation for people in Tempe, Mesa, and some areas of the Phoenix metro area.
The light rail includes service to the Phoenix Sky Harbor airport as well as to downtown destinations.  Many people use light rail to get to work and to visit sporting events in the downtown area. For information on the metro area light rail,  CLICK HERE.
?  Museums in the Phoenix Metro area
Phoenix has a rich history but is also a vibrant, modern city. There are so many things to see and do in Phoenix: it would take a lifetime to take them all in. Phoenix offers nearly 50 museums to enjoy. From the Legoland Discovery Center to Buddy Stubbs Harley Davidson to the African-American Culture Center.   Phoenix offers a vast array of exhibits that offer an unlimited opportunity for learning for the family.   Curiosity seekers can browse the Rosson House Museum at Heritage Square and take in some culture at the Phoenix Art Museum.
You can expand your mind at the Arizona Science Center, and delve into the past at the Arizona Historical Society Museum and the Phoenix Museum of History.  The Heard Museum contains Arizona's rich Indian heritage and provides a day full of exhibits and education for those of all ages.
?  Pro Sports teams in Phoenix, Az.
Phoenix is a sports lover's paradise and is home to both college and professional teams.
Depending on the season, when you move to Phoenix you can enjoy the Phoenix Coyotes for hockey, the Phoenix Cardinals for football, and the Phoenix Suns for basketball.  Additionally, there are many college teams to enjoy in Phoenix,.  Also, a women's National Basketball Association team, the Phoenix Mercury.
Phoenix is also known for its Spring Training games with the Cactus League.   Additionally, the Spring training games are held in several cities around the area.   These include Tempe, Mesa, Goodyear, Peoria, Goodyear, Scottsdale, and Surprise. Also, fifteen teams play at 10 facilities.
Additionally, many people come to the Phoenix metro area to see their favorite teams play baseball in preparation for the spring baseball season. Also, the Phoenix metro area sees a benefit of almost $600 million in revenue from these teams and those coming to watch them play ball.
More than 22 million tourists visit the Phoenix area every year, making the tourism industry key to the Phoenix economy.  The Metro Phoenix area is known for award-winning golf courses such as Troon North, The Boulders, Grayhawk Golf Club,  Gold Canyon, The TPC Scottsdale, and Talking Stick to name a few of the "not to miss" courses.
With the weather so sunny in Phoenix, it's no surprise that Major League Baseball (MLB) has chosen Phoenix as the official of the Cactus and Grapefruit Leagues.  Every spring thousands of fans come to the Phoenix metro area to watch spring training games throughout the valley. For next season's schedule CLICK HERE.
?️‍♀️  Phoenix Arizona Golf Courses
When you think of Phoenix, people always think of amazing golf courses.  In fact, there are over 200 golf courses in the metro Phoenix area!
You have probably seen the annual  Waste Management's Phoenix Open played in February on the famous TPC golf course.  Several of the golf courses are designed by famous golfers, including golf pro, Jack Nicklaus, for example.  Also, there are many public as well as private courses to play throughout the Phoenix metro area.
Additionally, these courses range from smaller 9 hole courses to 18 holes.  Also, many boast spectacular mountain and desert views to enjoy.   Many are private, like the six at Desert Mountain, but there are public golf courses that are just as challenging, like Rolling Hills Executive Golf Course which takes reservations from both residents of AZ and non-residents.
Golf Magazine, at their site Golf.com provides their recommendation of the top Phoenix / Scottsdale courses.  CLICK HERE.
Ready to book a Tee time and what to look for a great deal?  Also, check out Tee times and cost for various golf courses and find the best "deal"  CLICK HERE.
.
?  Colleges and Universities in Phoenix
Arizona State University – The Phoenix area is home to Arizona State University in Tempe, Az.  Also, the Wall Street Journal ranks ASU as #5 in the nation for producing best-qualified graduates.  And, ASU has ranked ahead of MIT and Stanford Universities!
Additionally, other campus locations include a downtown Phoenix campus and Lake Havasu City.  ASU is also home to the Thunderbird School of Global Management and the ASU West Campus.
The University of Phoenix – The University of Phoenix provides online and campus studies.  This university focuses on adult learning making it easy for working adults to complete undergraduate and graduate degrees.  Additionally, with multiple locations around the valley. There is easy access for those wanting to complete a higher degree without attending a traditional college.
Many College Options
Phoenix College – This is a system of community colleges throughout the Phoenix Metro area.  Here, students can earn a two-year degree.  Also, they can transfer to a larger college such as Arizona State University (ASU).  Also, many families appreciate the multiple locations of the community colleges.
Additionally, they like lower tuition than at a four-year university.  Also, students can save on tuition and housing expenses living at home while completing their first two years of college.
Grand Canyon University – This private Christian University offers on-campus living for students. Also, they have a strong online presence which helps to work adults. Also, with over 9 distinct colleges and 200 academic programs, it is easy to find the right program.   Degrees include undergraduate and graduate programs as well as Ph.D. programs.
.
? Find a Home in Phoenix
The Phoenix metro area offers many options to home buyers.  Additionally, whether one is looking for a home on the golf course, one on a Mountain preserve lot, waterfront or horse property, it is all here!  Looking for horse property, check out the Chandler, Gilbert, Queen Creek, and Maricopa areas.
Waterfront Home
Looking for a home on the water (yes, there are lakefront properties available throughout the area), check out Ahwatukee (city of Phoenix, the Ocotillo area in Chandler, lovely Val Vista Lakes, Arrowhead Lakes in Glendale, Lakeside at Ventana Lakes in Sun City, and more!  To see waterfront homes, CLICK HERE.
Golf Course Home 
Looking to live on a golf course?  Consider Mirabel Club in Scottsdale, Gainey Ranch in Scottsdale, Grayhawk in Scottsdale.  Also, there is Dobson Ranch in Mesa,  Shalimar Estates in Tempe, Foothills Clubwest, Phoenix (Ahwatukee), and Oakwood Golf course in Sun Lakes to name a few.  Additionally, to see golf course lots  CLICK HERE.
?  Horse Property
Horse property is found in Chandler, Queen Creek, Gilbert, Mesa, Florence, Scottsdale, and the town of Maricopa.  Some horse property will have an arena, stables, barns, corral, Hotwalker, or bridle paths.  Also, the sizes vary from less than an acre to several acres.
The Phoenix metro area has so much to offer for any lifestyle.  Looking for cooler weather, for instance?  From Phoenix, you are just about 3 hours away from the Snowbowl ski resort near Flagstaff, Az.  Additionally, looking for the beach?.  Also, did you know you can be in San Diego in under 6 hrs?
Outdoors in Phoenix
Living in Phoenix provides a great outdoors lifestyle.  Also, the great weather year-round makes outdoor hiking, biking, golfing and entertaining a part of everyday life.  Phoenix is close to mountains and the ocean.  This makes this the perfect place to call home!
See all the homes available in the Phoenix metro and search the entire Multiple Listing Service (MLS).  CLICK HERE.
For all your real estate needs contract Shirley Coomer with Keller Williams Realty. 602.770.0643  or scoomer@kw.com.
Looking to sell your home in another state?  CLICK HERE to get your home value.  Shirley can refer you to a great agent in your area to get your home sold, so you can MOVE TO PHOENIX!
 Contact the Shirley Coomer Group at Keller Williams Realty Sonoran Living
Call or Text: 602-770-0643 for more Real Estate Information
Moving to Phoenix
Summary

Article Name
Description
Information on the Phoenix, Arizona area such as schools, employers, zip codes, and things to do and a map of the Phoenix Metro area
Author
Shirley Coomer at Keller Williams Realty
Publisher Name
Shirley Coomer at Mountain Park Ranch Real Estate
Publisher Logo