Before we get into the Gilbert Real Estate Market Report for December 2021, I have a commentary written by Tina Tamboer.  Tina is the Senior Housing Analyst with the Cromford report. She was nice enough to let us use her summary of the Greater Phoenix Metro area as a backdrop for what is happening in Gilbert this month. Here is her commentary…
?️  The Greater Phoenix Metro Summary Analysis Real Estate Market Report
What Does a "Normal" Market Even Look Like Anymore?
Sellers: Look for these Measures to Shift in 2022
?    For Buyers:
Does anyone know what a normal, or balanced, housing market looks like anymore? In Greater Phoenix, the supply and demand indices have only come together twice in the past 21 years to form a balanced market. First from 2000-2003, then again from 2014-2015. There have only been two buyer markets recorded during that same time frame, from 2006-2009 (extreme) and a brief 3 months in 2010 (mild). Seller markets were recorded from 2003-2005, 2011-2013, and 2015-2021. The last 18 months have been extreme to say the least.
Over the past 21 years, Greater Phoenix has been in a buyer market for a combined total of 43 months (3.6 years), a balanced market for 55 months (4.6 years) and a seller market for 155 months (12.9 years). This is important to discuss because the longer seller markets last, the more human beings change their definition of what "normal" looks and feels like.
So what is "Normal" for Greater Phoenix?
"Normal" for Greater Phoenix is not a balanced market, it's a seller market. The years from 2015-2019 got us used to 2-3 months to sell a home, 15-19% of sales closing over list price, $2,500 over list considered an amazing offer, 25-28% of sales with closing cost assistance and 5-9% annual appreciation.
The last 18 months have shifted our expectations to 1 month to sell a home start-to-finish, 40-60% of sales closing over list price, $10,000 over asking price to start the bid, only 2-3% of sales with closing cost assistance and 27-39% annual appreciation.
So when national analysts suggest the housing market will cool off in 2022, many (if not most) local housing analysts believe it will remain a seller market, but a weaker one. Prices don't decline in seller markets, but listings may stay active for a few more days before accepting a contract. A full price offer may be enough to win a home. Buyers may have less pressure to waive appraisal and repairs.
However, after the last 18 months of extreme seller market conditions, anything less than sheer lunacy could feel like the sky is falling.
?    For Sellers:
With all the talk of 2022 predictions and uncertainty, it's important for sellers to stay in the moment and lean into what is known. The reality of the Greater Phoenix housing market is that supply is 67% below normal and dropping. Demand is 23% above normal and stable for now. Until these two indicators start moving towards each other, the housing market will not see prices stabilize. If anything were to negatively affect Wall-Street-financed corporate iBuyers and institutional landlords, then that would cause a shift downward in demand. That could happen someday, but it isn't happening today.
How do we know the market is shifting?
Even if demand were to decline tomorrow, sale price measures are the last to change in a shifting market. The first thing to go up would be the cost of the sale for the seller. For example, days on market will increase, list price reductions will increase and then eventually seller concessions will increase before anything is reflected in the final sales price.
The pattern goes like this; homes are on the market longer than expected as sellers push the boundaries on price. If the market resists in the form of zero offers, a price reduction is recorded in response. If demand dwindles to where only one offer is received instead of multiple offers, more pressure is placed on sellers to offer home warranties, do repairs, or consent to closing cost assistance in order to secure closing at their desired price.
None of these indicators appear to be shifting at the moment, but that could change. The key for sellers in 2022 is to stay on top of current market trends, listen to your REALTOR®, and be the first to shift expectations if buyer demand drops. A wise REALTOR® once said, "If you can't be with the buyer you love, love the one you're with."
Below you will find the statistical breakdown and more for the Gilbert area Real Estate Market Report November 2021.
View All Current & Past Phoenix & East Valley Real Estate Market Reports
  ?   Below is a snapshot of Gilbert's Real Estate Market Statistics for November 2021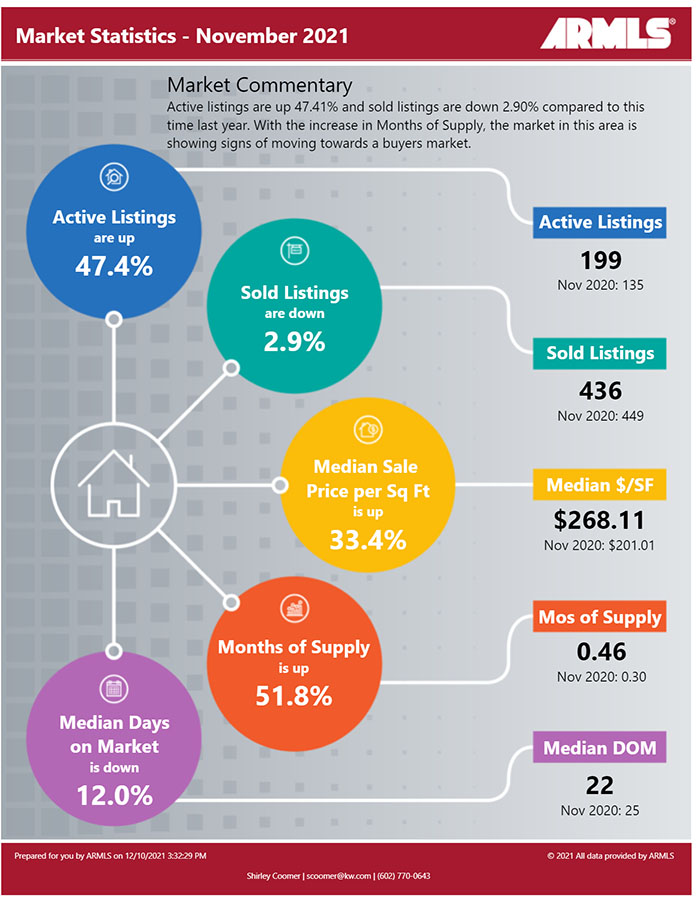 ?️     What are the Average Temperatures in Phoenix?
| Month | Low | High |
| --- | --- | --- |
| Jan | 43.4°F | 65.0°F |
| Feb | 47.0°F | 69.4°F |
| Mar | 51.1°F | 74.3°F |
| Apr | 57.5°F | 83.0°F |
| May | 66.3°F | 91.9°F |
| Jun | 75.2°F | 102.0°F |
| Jul | 81.4°F | 104.2°F |
| Aug | 80.4°F | 102.4°F |
| Sept | 74.5°F | 97.4°F |
| Oct | 62.9°F | 86.4°F |
| Nov | 50.0°F | 73.3°F |
| Dec | 43.5°F | 65.0°F |
Phoenix's coldest month is January when the average temperature overnight is 43.4°F. In July, the warmest month, the average day time temperature rises to 104.2°F. If you would like to see specific homes as they come on the market, click here to get email updates.
?   A look at Gilbert's current Sales Price. Real Estate Market Report for December 2021
In November, Gilbert's Median Sales Price was $535,000 up from last month's $520,000 and the prior months' $495,000, $515,000 and $502,000. As inventory levels remain at unheard of low levels, there has been continued pressure on the sales price as folks need to bid above the listing price to be the winning bid on the house.
If you are in the process of Buying or Selling a Home, Click on the highlighted link to see a number of interesting articles.
❓    What does this mean if you are a Buyer or a Seller?
Real Estate Market Report
As the chart above shows, the Phoenix housing market Inventory remains at historic low levels. Buyers should be prepared to jump on any listing that fits their needs. With inventory at these lows, make sure you make your offer as clean as possible (no contingencies). Since competition in the market remains high, you may want to consider offering over list price if the property value justifies it.
Sellers should expect multiple offers due to this low inventory level. We are seeing many more multiple offers as inventory drops. Know the market value of your home. When you start getting offers above list price and potential market price, be cognizant of a potential appraisal issue or look for offers with appraisal waivers/contingencies.
If you would like to see specific homes as they come on the market, click here to get email updates.
?️   What is the annual rainfall in Phoenix?
| Month | Precipitation |
| --- | --- |
| Jan | 0.83in. |
| Feb | 0.77in. |
| Mar | 1.07in. |
| Apr | 0.25in. |
| May | 0.16in. |
| Jun | 0.09in. |
| Jul | 0.99in. |
| Aug | 0.94in. |
| Sept | 0.75in. |
| Oct | 0.79in. |
| Nov | 0.73in. |
| Dec | 0.92in. |
The driest month in Phoenix is June with 0.09 inches of precipitation, and with 1.07 inches March is the wettest month.  
?️  Homes For Sale in Gilbert AZ
Below are Homes that have come on the market in the last 7 Days around the Median price range. Also below the pictures, you will see a Chart of all the Gilbert homes by price and Type: Below are all the homes available in the city of Gilbert by Dollar amount and type:
| | | | | |
| --- | --- | --- | --- | --- |
| Under $100,000 | Between $100,000-$200,000 | Between $200,000-$300,000 | Between $300,000-$400,000 | Between $400,000-$500,000 |
| Between $500,000-$600,000 | Between $600,000-$700,000 | Between $700,000-$800,000 | Between $800,000-$900,000 | Between $900,000-$1,000,000 |
| Over $1,000,000 | In Adult Communities | Foreclosed Homes | Short Sales | With Pools |
?  Below you will see the links for the other cities in the East Valley:
View All Current & Past Phoenix & East Valley Real Estate Market Reports
Contact the Shirley Coomer Group at Keller Williams Realty Sonoran Living
Call or Text: 602-770-0643 for more Real Estate Information.
Summary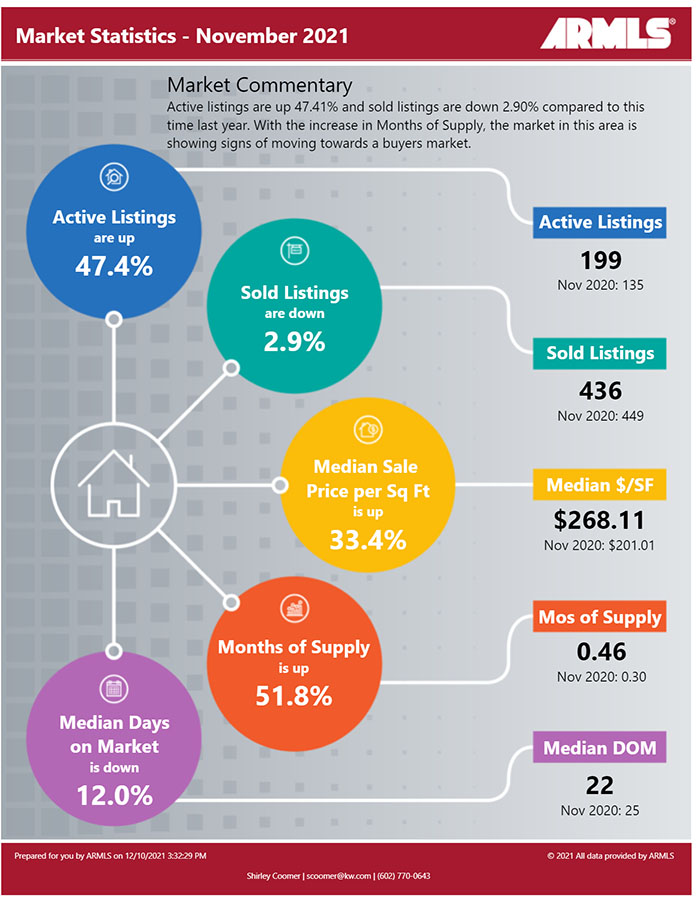 Article Name
Gilbert Real Estate Market Report December 2021
Description
Gilbert Real Estate Market Report December 2021 What buyers or sellers should know in the current market. Excerpts from the Cromford report
Author
Publisher Name
Publisher Logo