Before we get into the Gilbert Real Estate Market Report for May 2022, I have a commentary written by Tina Tamboer.  Tina is the Senior Housing Analyst with the Cromford report. She was nice enough to let us use her summary of the Greater Phoenix Metro area as a backdrop for what is happening in Gilbert this month. Here is her commentary…
?️  The Greater Phoenix Metro Summary Analysis Real Estate Market Report
MLS Supply Up 45% in 6 Weeks
Rising Interest Rates Dropping Demand Quickly
?    For Buyers:
It's the moment you've been waiting for, less competition and more supply in Greater Phoenix! Active supply is up 40% from this time last year, but all that gain has been achieved over the last 6 weeks with an increase of 45%. This is an enormous change from April's report where supply was only up 16% over last year and still below the count reported on January 1st. As of this report, the supply count is 7,157, still 72% below normal for this time of year but rising quickly.
The annual change in inventory is impressive, but it's the short-term growth that is sending shock waves throughout the market. Inventory listed between $400K-$500K is up 35% in just 3 weeks. Counts in all segments between $500K-$1M are up 99% in 6 weeks and the count from $1M-$1.5M is up 54%, also within 6 weeks. Not all price ranges are rising in inventory. Properties listed below $400K are still flying off the shelves and declining in supply.
The increase in inventory may seem like an early Christmas miracle, but it's not coming from a massive flood of new listings hitting the market. Visualize supply counts as the level of water in a bathtub, with new listings coming through the faucet and accepted contracts going down the drain. The water level can rise if there are more new listings coming through the faucet, or if there are fewer accepted contracts flowing down the drain. In this case, new listings are at normal levels and not excessive, but fast-rising mortgage rates have reduced the number of accepted contracts and closed the drain. This is what is causing inventory in the "bathtub" to increase dramatically.
Mortgage Rate Trends
While recent interest rates are disappointing for many buyers, causing some to drop out and wait, history has shown us that they rarely stay high, or low, forever. While it's near impossible to predict when interest rates may begin to decline, if we look over the last decade when interest rates have risen by 1% or more within a year, it has taken anywhere from 1 to 3 years for them to return to their original starting point. Even when rates increased by a whopping 5% over 14 months from 1980-1981, it only took 1.5yrs to drop back to where they started. Future expected interest rate drops over the next few years along with moderate home price appreciation and monthly principal reductions may provide today's buyers the opportunity to lower their payments by hundreds of dollars down the road.
?    For Sellers:
The market is in the early stage of shifting out of an insane seller market and into a mere frenzy seller market. Before we know it, it could be a regular old hot seller market where properties still appreciate but take multiple weeks to sell, buyers don't waive their appraisal contingency, and sellers happily pay for home warranties. But before all of that happens, it starts with one simple act from a seller, a list price reduction.
As inventory has risen at a fast pace over the past 6 weeks, so have the number of weekly price reductions as sellers compete for fewer buyers. Listings between $400K-$500K have seen a 103% increase, with the median price drop at $13,000. Price drops in the $500K-$800K range increased 157%, with median drops between $16,000 and $20,000. Drops in the $800K-1.5M range increased 125%, with a median drop between $25,000 to $50,000.
So far, price reductions have proven effective in keeping the median days prior to contract around 7 days. However, as inventory continues to rise in the coming weeks, price reductions may not be enough to keep some properties from lingering longer in active status, creating more choices for buyers and strengthening their bargaining power.
While the market is still strongly in favor of sellers, it is changing rapidly. For those sellers waiting to sell close to the peak of price, this may be the time to list. Prices are still projected to continue rising, but at a slower pace over the next few months.
Below you will find the statistical breakdown and more for the Gilbert area Real Estate Market Report April 2022.
View All Current & Past Phoenix & East Valley Real Estate Market Reports
  ?   Below is a snapshot of Gilbert's Real Estate Market Statistics for April 2022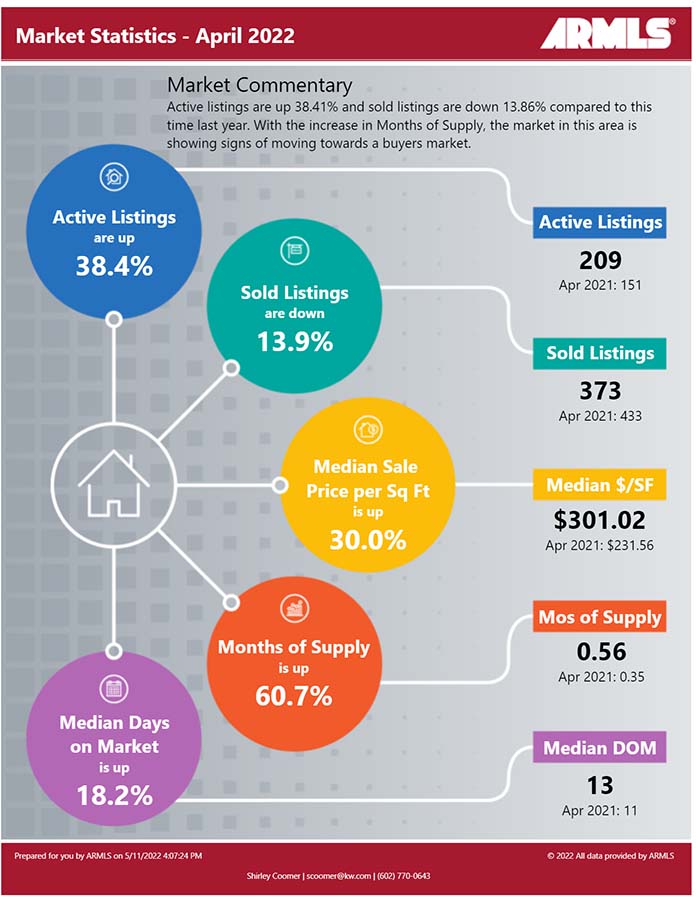 ?️     What are the Average Temperatures in Phoenix?
| Month | Low | High |
| --- | --- | --- |
| Jan | 43.4°F | 65.0°F |
| Feb | 47.0°F | 69.4°F |
| Mar | 51.1°F | 74.3°F |
| Apr | 57.5°F | 83.0°F |
| May | 66.3°F | 91.9°F |
| Jun | 75.2°F | 102.0°F |
| Jul | 81.4°F | 104.2°F |
| Aug | 80.4°F | 102.4°F |
| Sept | 74.5°F | 97.4°F |
| Oct | 62.9°F | 86.4°F |
| Nov | 50.0°F | 73.3°F |
| Dec | 43.5°F | 65.0°F |
Phoenix's coldest month is January when the average temperature overnight is 43.4°F. In July, the warmest month, the average daytime temperature rises to 104.2°F. If you would like to see specific homes as they come on the market, click here to get email updates.
?   A look at Gilbert's current Sales Price. Real Estate Market Report for May 2022
In April, Gilbert's Median Sales Price was $605,000 up from last month's $600,000 and the prior months' $564,900, $535,000 and $532,000. As inventory levels remain at unheard of low levels, there has been continued pressure on the sales price as folks need to bid above the listing price to be the winning bid on the house.
If you are in the process of Buying or Selling a Home, Click on the highlighted link to see a number of interesting articles.
❓    What does this mean if you are a Buyer or a Seller?
Real Estate Market Report
As the chart above shows the Phoenix housing market Inventory remains at historic low levels. Buyers should be prepared to jump on any listing that fits their needs. With inventory at these lows, make sure you make your offer as clean as possible (no contingencies). Based on Tina's comments above, you may have to pay over the list price to get the deal.
Sellers should expect multiple offers due to this low inventory level. We are seeing many more multiple offers as inventory drops. Know the market value of your home. When you start getting offers above list price and potential market price, be cognizant of a potential appraisal issue or look for offers with appraisal waivers/contingencies.
If you would like to see specific homes as they come on the market, click here to get email updates.
?️   What is the annual rainfall in Phoenix?
| Month | Precipitation |
| --- | --- |
| Jan | 0.83in. |
| Feb | 0.77in. |
| Mar | 1.07in. |
| Apr | 0.25in. |
| May | 0.16in. |
| Jun | 0.09in. |
| Jul | 0.99in. |
| Aug | 0.94in. |
| Sept | 0.75in. |
| Oct | 0.79in. |
| Nov | 0.73in. |
| Dec | 0.92in. |
The driest month in Phoenix is June with 0.09 inches of precipitation, and with 1.07 inches March is the wettest month.  
?️  Homes For Sale in Gilbert AZ
Below are Homes that have come on the market in the last 7 Days around the Median price range. Also below the pictures, you will see a Chart of all the Gilbert homes by price and Type: Below are all the homes available in the city of Gilbert by Dollar amount and type:
| | | | | |
| --- | --- | --- | --- | --- |
| Under $100,000 | Between $100,000-$200,000 | Between $200,000-$300,000 | Between $300,000-$400,000 | Between $400,000-$500,000 |
| Between $500,000-$600,000 | Between $600,000-$700,000 | Between $700,000-$800,000 | Between $800,000-$900,000 | Between $900,000-$1,000,000 |
| Over $1,000,000 | In Adult Communities | Foreclosed Homes | Short Sales | With Pools |
?  Below you will see the links for the other cities in the East Valley:
View All Current & Past Phoenix & East Valley Real Estate Market Reports
Contact the Shirley Coomer Group at Keller Williams Realty Sonoran Living
Call or Text: 602-770-0643 for more Real Estate Information.
Summary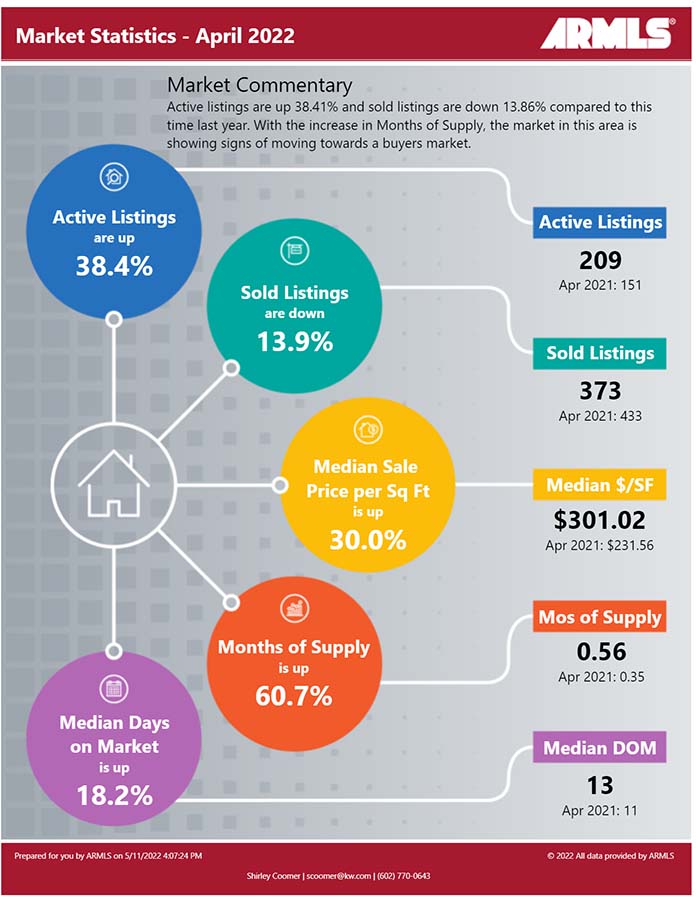 Article Name
Gilbert Real Estate Market Report May 2022
Description
Gilbert Real Estate Market Report May 2022 What buyers or sellers should know in the current market. Excerpts from the Cromford report
Author
Publisher Name
Publisher Logo