Before we get into the Gilbert Real Estate Market Report for October 2021, I have a commentary written by Tina Tamboer.  Tina is the Senior Housing Analyst with the Cromford report. She was nice enough to let us use her summary of the Greater Phoenix Metro area as a backdrop for what is happening in Gilbert this month. Here is her commentary…
?️  The Greater Phoenix Metro Summary Analysis Real Estate Market Report
The End of Forbearance is Not the End of a Seller Market
Supply Up 93% Since April, Prices Continue to Rise
?     For Buyers:
The housing supply shortage is still in full swing, and there is online speculation that the end of forbearance may be the source of relief as some homeowners may need to sell. According to Black Knight, the national number of mortgages in forbearance has declined 67% from a peak of 4.76M in May of last year to 1.6M as of September 28th, 2021. Surveys from the Mortgage Bankers Association indicate that at least 80% of homeowners have stayed in their homes after forbearance. That means roughly 600,000 properties have already been added to the national supply of homes for sale over the past year without causing home values to decline.
If we can expect 20% of the 1.6M remaining homeowners in forbearance to leave their home; that's roughly 6,400 properties per state on average. Since Greater Phoenix alone records roughly 11,000-14,000 closings per month, the number of properties exiting forbearance may be enough to ease the lack of supply for a short while, but probably not enough to cause prices to decline in Greater Phoenix.
?    For Sellers:
The Greater Phoenix housing market is cooling, but it is far from cold. To put the last 6 months in perspective, from April 1st to October 1st, supply rose 92% from 3,591 to 6,883* active listings in the Arizona Regional MLS. In the same time frame, listings under contract dropped 9% from 11,939 to 10,878*. While a rise in supply combined with a decline in contracts in escrow indicates a cooling of the market, it's important to put it in perspective from a seasonal and a non-seasonal point of view.
Seasonally, it's normal for listings in escrow to drop between April and October. However, despite the most recent drop to 10,878 is still higher than previous counts on October 1st from 2014-2019, which ranged between 8,100 and 9,800. This places demand notably higher than even the pre-pandemic seller markets. It is not seasonal for supply to rise between April and October, so a 93% increase is a notable shift.
However, a count of 6,883 active listings is extremely low. In the last balanced market of 2014, the count on October 1st was 21,796. During the seller markets from 2015-2019, October 1st counts declined from 18,000 to just over 12,000 listings. So despite the 93% increase in supply, it's still 45% lower than the pre-pandemic 2019 seller market and 68% below the last balanced market of 2014.
The effects of this 6-month weakening are mild. Here are a few:
The Median Days on the Market prior to the contract has increased from 5 days to 11 days
The Sale Price to List Price ratio has decreased from 101.8% (1.8% over list price) to 0.3%
Sales over Asking Price have decreased from 60% of sales to 47% of sales
The Median Amount over the List has decreased from $20,000 to $11,000.
It's good to be a seller.
The commentary was written by Tina Tamboer, Senior Housing Analyst with The Cromford Report
©2021 Cromford Associates LLC and Tamboer Consulting LLC
Below you will find the statistical breakdown and more for the Gilbert area Real Estate Market Report September 2021.
View All Current & Past Phoenix & East Valley Real Estate Market Reports
  ?   Below is a snapshot of Gilbert's Real Estate Market Statistics for September 2021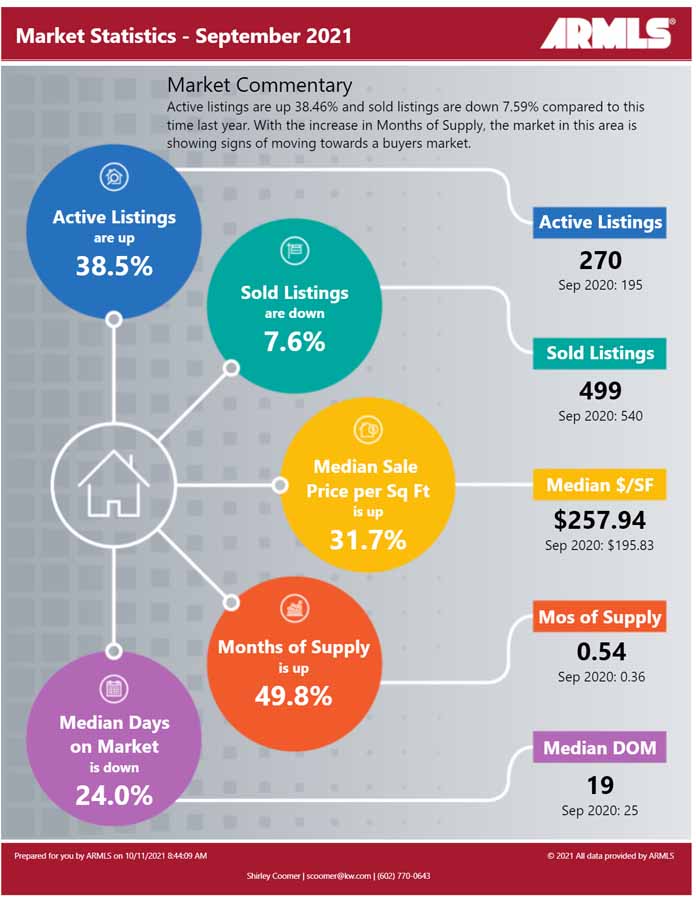 ?️     What are the Average Temperatures in Phoenix?
| Month | Low | High |
| --- | --- | --- |
| Jan | 43.4°F | 65.0°F |
| Feb | 47.0°F | 69.4°F |
| Mar | 51.1°F | 74.3°F |
| Apr | 57.5°F | 83.0°F |
| May | 66.3°F | 91.9°F |
| Jun | 75.2°F | 102.0°F |
| Jul | 81.4°F | 104.2°F |
| Aug | 80.4°F | 102.4°F |
| Sept | 74.5°F | 97.4°F |
| Oct | 62.9°F | 86.4°F |
| Nov | 50.0°F | 73.3°F |
| Dec | 43.5°F | 65.0°F |
Phoenix's coldest month is January when the average temperature overnight is 43.4°F. In July, the warmest month, the average day time temperature rises to 104.2°F. If you would like to see specific homes as they come on the market, click here to get email updates.
?   A look at Gilbert's current Sales Price. Real Estate Market Report for October 2021
In September, Gilbert's Median Sales Price was $495,000 from last month's $515,000 and the prior months' $502,000, $506,000 and $490,000. As inventory levels remain at unheard of low levels, there has been continued pressure on the sales price as folks need to bid above the listing price to be the winning bid on the house.
If you are in the process of Buying or Selling a Home, Click on the highlighted link to see a number of interesting articles.
❓    What does this mean if you are a Buyer or a Seller?
Real Estate Market Report
As the chart above shows, the Phoenix housing market Inventory remains at historic low levels. Buyers should be prepared to jump on any listing that fits their needs. With inventory at these lows, make sure you make your offer as clean as possible (no contingencies). While properties exiting forbearance may provide additional supply of homes for sale, according to Tina's comments above, this may not be enough to cause price reduction in Greater Phoenix. Since competition in the market is still high, you may want to consider offering over list price if the property value justifies it.
Sellers should expect multiple offers due to this low inventory level. We are seeing many more multiple offers as inventory drops. Know the market value of your home. When you start getting offers above list price and potential market price, be cognizant of a potential appraisal issue or look for offers with appraisal waivers/contingencies.
If you would like to see specific homes as they come on the market, click here to get email updates.
?️   What is the annual rainfall in Phoenix?
| Month | Precipitation |
| --- | --- |
| Jan | 0.83in. |
| Feb | 0.77in. |
| Mar | 1.07in. |
| Apr | 0.25in. |
| May | 0.16in. |
| Jun | 0.09in. |
| Jul | 0.99in. |
| Aug | 0.94in. |
| Sept | 0.75in. |
| Oct | 0.79in. |
| Nov | 0.73in. |
| Dec | 0.92in. |
The driest month in Phoenix is June with 0.09 inches of precipitation, and with 1.07 inches March is the wettest month.  
?️  Homes For Sale in Gilbert AZ
Below are Homes that have come on the market in the last 7 Days around the Median price range. Also below the pictures, you will see a Chart of all the Gilbert homes by price and Type: Below are all the homes available in the city of Gilbert by Dollar amount and type:
| | | | | |
| --- | --- | --- | --- | --- |
| Under $100,000 | Between $100,000-$200,000 | Between $200,000-$300,000 | Between $300,000-$400,000 | Between $400,000-$500,000 |
| Between $500,000-$600,000 | Between $600,000-$700,000 | Between $700,000-$800,000 | Between $800,000-$900,000 | Between $900,000-$1,000,000 |
| Over $1,000,000 | In Adult Communities | Foreclosed Homes | Short Sales | With Pools |
?  Below you will see the links for the other cities in the East Valley:
View All Current & Past Phoenix & East Valley Real Estate Market Reports
Contact the Shirley Coomer Group at Keller Williams Realty Sonoran Living
Call or Text: 602-770-0643 for more Real Estate Information.
Summary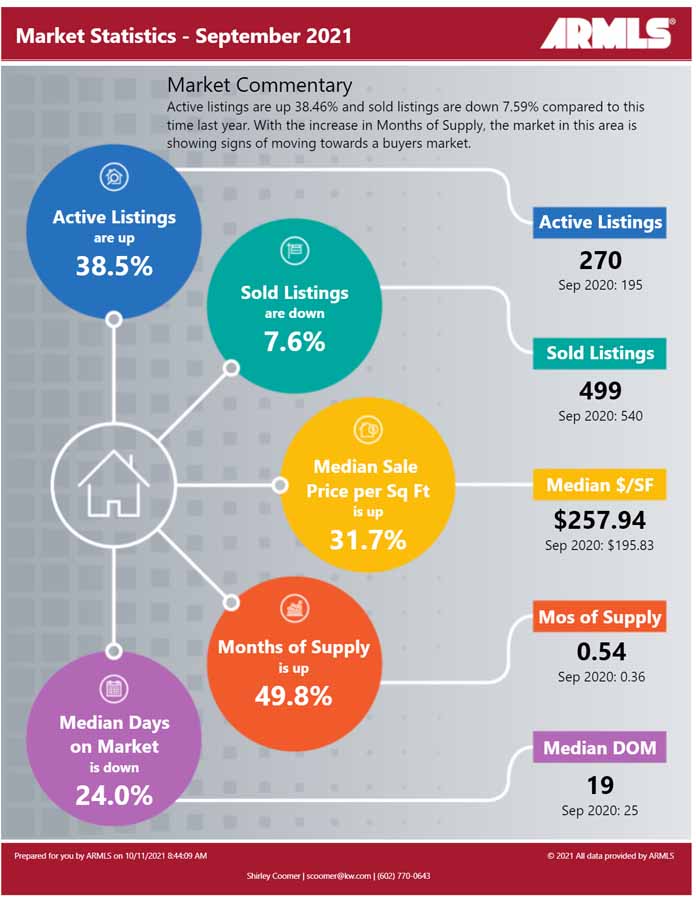 Article Name
Gilbert Real Estate Market Report October 2021
Description
Gilbert Real Estate Market Report October 2021 What buyers or sellers should know in the current market. Excerpts from the Cromford report
Author
Publisher Name
Publisher Logo