What are 8 cheap fixes to improve the value of your home?  When buyers walk into a home, they notice clutter and dirt.  Most buyers can see beyond things that need to be updated, but not a dirty or messy house.
Declutter and Clean Your Home, It is Free!
If you want shelves full of collections throughout your home or have great hunting trophies in your living room, that is okay.  Also, if orange is your favorite wall color, knock yourself out. Additionally, your friends and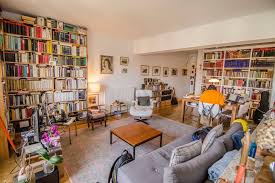 family will be entertained in your home and admire your decorating taste, collecting savvy, and hunting skills.
The day sellers decide to put their house on the market, their home really ceases to be their 'home'. It needs to be viewed as a "house".  A successful seller will declutter and depersonalize the house. You are planning to move, right?
Start now to clean and sort things that can go to a charity, other family members, or are trash. And, how many items of the same kind do you need? Box unneeded items you are keeping.  Also, make sure closets and cupboards are neatly arranged and appear spacious.
Look around each room and decide if you really need these items for the next few months. Also, ask yourself if they will go in your new home? If you are downsizing everything is not going to fit anyway! If you are looking for a different home style, today's accessories may not fit into the scheme of your new home.
When homeowners are considering upgrades to their homes, they need to ask themselves if they are doing the updating to sell the home? Or are they updating because they want to enjoy the upgrades for years to come?  As a real estate agent,  I always tell sellers:  " The home you live in is not the home you put on the market". 
Should I Repaint the House?
Painting a neutral color will help buyers picture themselves living in your house and they will not be distracted by bright colored walls. In addition to fresh paint on the walls, paint the woodwork as well.  Also, paint the doors, inside and out.  You want the house to have a fresh and inviting feel.  Buyers who see marks on walls and woodwork will only see work for themselves. Paint is an inexpensive way to freshen up a house.  Most homeowners can paint a few rooms. Be sure you get the right supplies, including a good brush or roller, and tape for clean lines.  If you don't want to do your own painting, check with a few handymen or painters and get an estimate.  Also, an experienced painter and crew and prep and complete the painting in no time.
Should I Remodel the Kitchen?
A kitchen remodel can be anything from new countertops, think solid surfaces such as granite or quartz. Updated or replaced cabinets. Consider painting the cabinets, refacing, or replacing depending on the age and condition. Always add hardware. Additionally, this adds interest and is a nice visual for buyers upon entering the kitchen.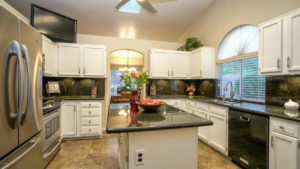 Also, think about replacing the sink when you replace countertops.  Farmhouse sinks are popular today. Additionally, updated faucets of a high-quality scream "updated kitchen". Replace appliances with stainless steel. There are several price points and many appliance stores will offer a package deal.  Add a coat of paint to brighten and freshen up the room.
Consider different window treatments. If you have wallpaper, please remove it. Walls covered with big orange flowers or crowing roosters are a distraction. Don't forget to take down those wallpaper borders.  These are typically distracting and date a house. Again, you are moving, so take it down or risk being known by buyers as the "ugly wallpaper kitchen house".
What Should I Update in my Bathroom?
Experts say you will get back 99 % of your investment in a bathroom remodel.  A tiled shower with a water-saving showerhead or a rain shower will scream "updated and elegant" to buyers. Tiling a shower will add a modern feel. Also, update faucets for that new feel. Replace toilets with water-efficient models.
Also, consider updated vessel sinks. If you have carpet (heavens forbid) in your bathroom, that needs to go!  Add high-quality towel racks and add high-quality new towels for showings. Look around the bathroom and think "storage".  Update the light bar above your sinks, this can be very inexpensive!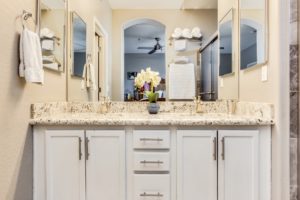 Can you add a cabinet over the commode? Consider pull-out shelves in the lower bathroom cabinets. There is a lot of storage room in cabinets and the pull out shelves make stored items very accessible. If you have older mirrors consider changing to individual mirrors hanging over the sinks or framing a large mirror to give it that "finished' look.
You may also be interested in reading about the Phoenix Instant Buyer or iBuyer market.
What Should I do for My Master Bedroom?
Clean out your closet so it shows open and uncrowded. Consider any of the closet organizers which have rods, shelves, shoe racks, and drawers for maximizing storage. Buyers always love closet organizers. They may not be organized in their closet today, but the promise of future organization with YOUR closet is a great buyer motivator.  Again, you are moving, so sort clothes and shoes, take unwanted items to goodwill, have a garage sale, or put in storage.
Look around the room. Do you have extra furniture in the room? Do you need several side chairs, desks, and cabinets in the bedroom or is that just a place to keep them until you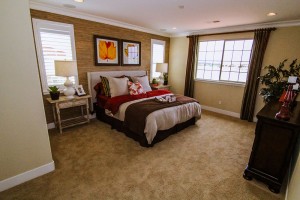 decide what to do with those items? Again, why not give to friends, families, shelters, or a charity?
Buyers expect to see a bed, a couple of nightstands and dressers, maybe a cabinet for the TV, but not odd furniture. Again, this is distracting to buyers and makes a room look small. Remove any desks or office furniture from the bedroom.  When buyers see you are using your bedroom for an office, they think there isn't enough room in the house!
What Can I do in my Laundry Room?
If there is room in your laundry room consider adding extra cabinets. Buyers love having cupboards over the washer and dryer. If there is room for a bar for clothes drying, consider adding one as well. Anything that adds to storage to your home will have a great payback and help draw in the buyer. Replacing a single shelf over the washer and dryer with cupboards.  This is a quick way to increase storage space.
8 Cheap Fixes to Improve the Value of Your Home will help you sell your house for more money!
Throughout the House
Clean out all closets, drawers, and cupboards. Buyers will open closet doors to see potential storage. Sort through drawers and remove clutter. Show buyers your house has plenty of room in cabinets and drawers. When you start your major cleaning spree, think kitchen cabinets, drawers, and pantry.  Take a look at the top of your refrigerator.  Remove and food items or clutter.  When buyers see you are storing boxes of cereal ono the frig, they think there is a lack of storage.  Don't forget linen closets & bathroom cabinets. Arrange sheets and towels neatly in the linen closet. Remove excess linens and towels. Show how much storage is available in your house!
Unless you are really selling a fixer-upper and have priced it accordingly, buyers today expect a house to be clean, light, and bright. Increase the wattage in your light bulbs.  Also,  make sure all light bulbs work!  When a buyer sees a bulb that is out, they don't know if the bulb is

just burnt out OR if there is an electrical issue. Also, buyers are usually looking to upgrade their current living arrangements.   Look at your home as a buyer would view the entire home.
If You are selling your house, you may also be interested in reading about what Arizona requires for Seller's Disclosure Statements.
What About the Curb Appeal?
Start by looking at your home from the street. How is the curb appeal?  How do you feel walking up to the front door?  Are your landscaping and entrance welcoming?  Do you need to replace or repaint the front door? How does your hardware look? Are the exterior lights on the garage and by the front door clean and bug-free?  If you have a security door or other door screen, it is free of dust and dirt?
Consider a paint update. Perhaps you need to add some colorful potted plants by the front door? Is your front light clean and free of bugs? Do you need to remove or put a garden hose in a container to make the front attractive?
A buyer spends a few minutes at the front door as their real estate agent retrieves the key from a lockbox. Buyers are looking around at the condition of the house.
Also, they are already making a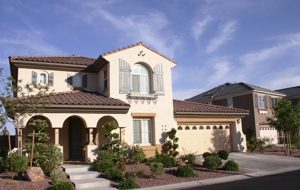 judgment on the property. Often buyers will drive by your house before scheduling an appointment to see the house, so don't underestimate the need for GREAT curb appeal!
Inside Your House
Take a walk through your house like a buyer, look up. Do the ceiling fans need to be dusted? Are the air filters clean? If there is an open staircase, are the cabinets and shelves visible from the stairs clean? Are all the windows cleaned, inside AND out? Are the window sills clean? No one wants to see dead bugs in your windowsills!
If you have sunscreens (as we do here in Arizona), consider taking them down to make sure the house shows light and bright. Make sure the patio doors are clean and shiny. Clean out the slider tracks in doors and windows so they slide easily. Open up all your curtains and blinds so the house looks bright and inviting.
If you start these 8 home improvements that have great payback you can save money.  Also, you make your house appear larger with more storage, and sell faster. Adding brighter light bulbs, decluttering, and freshening up your front are little to no cost items, only requiring your time and elbow grease!
If you start with these 8 Cheap Fixes to Improve the Value of Your Home, you have a better chance of selling for top dollar!
Do I Have to Clean Up My Back Patio and  Yard?
Don't forget to pay attention to your back patio.  Be sure to declutter.  Remove odd furniture. Be sure your patio table and chairs are clean and inviting.  You want buyers to picture themselves on your patio entertaining friends and family.  You don't want them distracted by soiled or ripped chair pillows.  Add a few colorful pots of flowers. Be sure your grill looks clean or has a cover.
Don't forget your pool!  Be sure it is sparkling clean.  When buyers see a dirty pool, they think there could be something wrong with your pool equipment. If you have a water feature, consider turning it on for showings.  Create that atmosphere for buyers!  You want to highlight the Arizona lifestyle!
Once sellers see their home as a "house" and look at it like buyers will see it, they have a better chance of selling that house. Do you want to see what the competition has to offer? Go look at a few homes in your neighborhood similar to yours that are currently on the market. How does your house compare? Compare price and condition and price relative to the conditions. If you were a buyer, which would you buy?
Contact the Shirley Coomer Group at Keller Williams Realty Sonoran Living

Call or Text: 602-770-0643 for more Real Estate Information.
8 Cheap Fixes to Improve the Value of Your Home