When it is time to pack up for a move, sellers need to find plenty of boxes to start packing!  Have you wondered Where to Get Free Boxes Moving Boxes for Sellers? Even if you are using a moving company that will pack your home for you, there will be closets and drawers you will want to sort through ahead of time.  You are moving, so now is the time to declutter your home. Start a donation pile and a garage sale pile!
We don't ever want to pay for something if we can get the same item for free!  There are several places to explore to get free boxes.
First, start your search early.  Check local community Facebook groups.  Find someone who has recently moved into a house.  Often, folks are happy to give away boxes to someone else moving.  Sure, they can recycle them, but if asked or reminded someone can use them,  most folks are happy to have you pick them up. Check with your real estate agent.   I often connect recent buyers with sellers to recycle boxes!
?  Check Local Stores for Boxes
There are several stores to check out for free boxes.  Start with the big box stores like Sams or Costco.  They get frequent deliveries and have a nice assortment of sizes.  Check out the liquor boxes which come with dividers.  Wine comes 12 bottles to a box and you have dividers too.  Liquor boxes are typically divided into 6 sections, allow for separation of other items. Additionally, liquor is sold in glass bottles, which means those boxes are going to be very sturdy.
Stores get shipments of various products in cardboard boxes.  Once empty, they must break the boxes down to recycle or discard.  Many stores are happy to let you take the boxes for free!  Choose stores with boxes that are easy to move after you get them packed.  You can get a lot of stuff in a huge box, but do you want to lift it?
Look for undamaged, clean boxes.  Also, be sure to get several sizes of b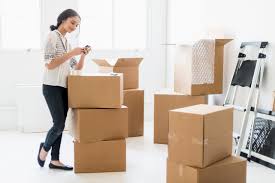 If you are selling your house, you may also enjoy reading about Selling Your House With Pets.
?  Grocery Stores
We know grocery stores get daily shipments of food.  In addition to any liquor boxes, look for boxes where apples or bananas have been shipped.  These boxes are heavy and often have side cut-outs for handles. Additionally, these boxes usually have lids that slide over the box, keeping them secure!  These boxes are uniform in size, not too big and easy to move around.
?  The Local Liquor Store
Just like looking for boxes at Costco or Sam's, your local liquor store will be happy to get rid of their sturdy boxes with dividers.  Again, these boxes are not overly big, so you can easily pack and move them as needed.
#️⃣  Facebook
Look for community pages on Facebook. Most communities have these local groups.  This is a great please to ask anyone with boxes to let you pick them up when they are finished with them.  It is also a great way to get rid of them after you move and are unpacked.
You can probably pick up boxes as the user gets them unpacked.  As long as they are saving the boxes, many folks will save the packing paper for you as well!  When you get boxes from someone who has used a professional moving company, you also will likely get wardrobes for clothes.
These are great boxes with a hanging rod so you can hang up your clothes!  Directly from your closet to the box, and into your new closet!  Also, professional movers use the smaller boxes, called dish packs, for dishes.  They also have larger boxes for lamps or other large items.
Professional moving companies typically use special boxes for mirrors and pictures they are large and flat, easily fitting your artwork!
If you enjoyed this article, you might also enjoy, How to stage A living Room When Selling A house
If you are selling your house, you may be interested in reading about Seller Closing Costs in Arizona.
??‍?‍??  Nextdoor Neighbor
This is another community site.  This community is typically within a specific neighborhood or adjacent neighborhoods.  Neighbors like to help neighbors.  These groups will often announce available boxes.  Most people like to recycle when reasonably possible and somewhat convenient.
It is pretty convenient when a neighbor comes over and picks up the boxes you just emptied!  In these groups, someone always knows someone who may be able to help!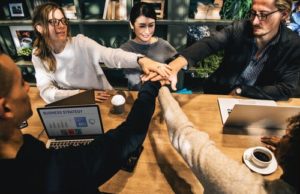 ? Ask Your Realtor
As a real estate agent, I know which clients are moving and need boxes or have boxes,  Even when someone may not be ready to move, they are having conversations about moving or getting ready to move.
I often match up sellers with folks looking to move and recycle boxes.
?  Craigslist
Here is another great source where recent home buyers offer up their boxes on a first come first serve basis!  Remember, you need to be quick.  Once the boxes are emptied, the new homeowner wants them gone!
?️  Freecycle
Freecycle is a recycling website.  There are various groups around the Phoenix area. CLICK FOR LINK.  At this site, people offer up items for free and they note items they would like to have for free.
?  Office Building
Check your office.  Often a business will have boxes which copy paper comes in.  These are heavy-duty boxes with nice lids.  Start early and collect a few a week.  By bringing a few boxes home each week you can gradually start your backing and decluttering!
?  Last Resort – Purchase Boxes
If you are not able to find enough boxes from the free sources, it may be time to buy them.  Home Depot sells boxes, bubble wrap and packing tape.  Veterans receive a 10% discount from Home Depot.  They offer a variety of box sizes.
⛟  U-Haul
You can purchase boxes and moving materials from U-Haul.  They also offer a great box exchange program for their customers.  CLICK HERE for a link to the exchange.
U-Haul also has several programs that allow our customers to get together and share rides  This benefits our customers and communities. this sharing keeps boxes out of the landfills.  This reduces fuel consumption by sharing rides.
You may also be interested in reading about How to Sell Your House Quickly in Phoenix, Arizona.
When it is time to move, start early looking for boxes, bubble wrap, packing paper, and tape.  Gather a few boxes and go home and clean out a closet, and repeat!  When you start early the task of moving will be less overwhelming.
Getting free boxes and supplies not only saves you money, but recycling helps the environment.  Don't forget to offer your empty boxes to others when you finish your move and have your boxes unpacked.  Moving is a great time to declutter!  Get serious about sorting through your items.
Remember, it costs money to move.  moving companies charge by the pound.  Why would you want to move hundreds of pounds of "stuff" that you really don't want?
Phoenix Homes on the Market in the last 7 days
$250,000 – $350,000
Contact the Shirley Coomer Group at Keller Williams Realty Sonoran Living

or Text: 602-770-0643 for more Real Estate information.
Summary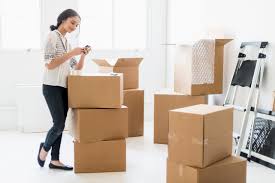 Article Name
Where Sellers Find Free Boxes For Moving
Description
Where to find free boxes for moving. these places include stories, Facebook groups, Craigslist, etc.
Author
Shirley Coomer at Keller Williams Realty
Publisher Name
Shirley Coomer at Mountain Park Ranch Real Estate
Publisher Logo